Hailing from the St. Louis area, The Bottle Rockets show some of the same influences that inspired Uncle Tupelo and their progeny.  In Lean Forward , their tenth release, the Rockets have a record that's a rich bouquet of rock and roll, but nonetheless retaining some twangy alt country aromas.  What distinguishes many of the songs here is the kind of writing that makes listening enjoyable at multiple levels.  You can turn it on and crank it up for the music, or sit back and enjoy the lyrical tales of middle class life.  As Brian Henneman explains in Hard Times , it's not that he's broken, just out of gas, a nice metaphor for where a lot of folks are today.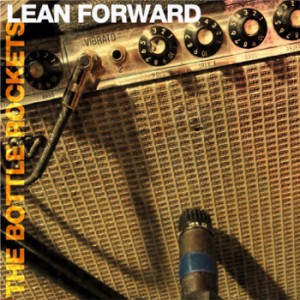 The album starts out with The Long Way , a good straight ahead rock and roll number.  The first half of the disc shares the same characteristics, although Nothin But A Driver adds a nice Bo Diddley beat that rounds it out and makes it one of my favorites on the disc.
Midway through the album, its tenor starts opening up and widening out.  It starts with Kid Next Door , a sad recollection of the effects of war on the neighborhood.  Like a good love song, the impact isn't what you have, but what you lost.  A couple of songs later, Get On The Bus picks up the tempo again with a tune that could come straight out of The Gourds playbook with a driving lead guitar and well-placed fiddle and mandolin riffs.  The chorus "got to get on the bus and drive it on home to you" is reminiscent of Magic Bus , but I'm pretty sure The Who wasn't paying a buck seventy five for their ride.
The album finishes with three strong songs: Slip Away , Solitaire , and Give Me Room .  Slip Away makes great use of a Hammond organ-like sound to add some texture to a wistful little number.  Solitaire opens with a riff borrowed from Little Feat's Willin , but quickly takes control of its own direction and paints a melancholy picture of two people drifting apart.  Give Me Room finishes the album with a strong pop beat and bass line and is perhaps the most radio friendly tune in the collection.
Overall, Lean Forward really gathers momentum as it plays through, and you walk away with respect for a band that's been together nearly 20 years and is clearly comfortable in its own skin.
---
About the author:
I've actually driven from Tehatchapee to Tonopah. And I've seen Dallas from a DC-9 at night.
---