After many years experimenting with roots music styles from reggae to ragtime, Corey Harris has emerged as a master.  Fulton Blues, a self-produced collection of mainly acoustic blues, represents a return to Harris' musical roots.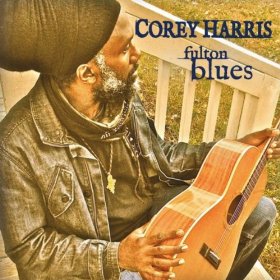 As a musical adventurer, Harris can be compared with Taj Mahal and Ry Cooder.  He first gained notice with a pure Delta blues style with his straightforward lyrics and fantastic acoustic slide playing.  As his following grew, he began incorporating Creole and reggae influences.  In 2003, Harris was featured in Martin Scorsese's film Feel Like Going Home, which was the first installment in the Scorsese-produced series The Blues on PBS.  After travelling to Mississippi and West Africa for the Scorsese film, Harris released his own masterful CD, Mississippi to Mali, using some of the connections he had made during filming.
Then Harris began to explore more aggressively in unexpected directions.  With Daily Bread in 2005, Harris explored reggae, coupling rasta numbers with traditional blues.  Zion Crossroads in 2007 defied any notion Harris could be pigeonholed, with a pure reggae effort – and a great one at that.  Since then, Harris has seesawed between genres, teaming with ex-Cephas & Wiggins harpist Phil Wiggins in 2009 to tour and produce a self-released album of acoustic blues.  Harris has also toured with his  "Rasta Blues Experience" putting on amazingly eclectic shows that run from reggae to blues to jazz and recorded the self-released Father Sun, Mother Earth in 2011.  Throughout it all, Harris has participated in other projects, such as the Billy Bragg/Wilco 1998 collaboration to celebrate Woody Guthrie's unrecorded songs, Mermaid Avenue, and Otis Taylor's 2008 Recapturing the Banjo.       
On his website, Harris describes Fulton as a community in Richmond, Virginia in which former slaves settled, which was demolished during the 1970s.  Consistent with the subject matter of its title song, Fulton Blues continues Harris' conversation about the African American experience – there is no mistaking Harris' point in "House Negro Blues."  The album, which features mostly acoustic blues, is largely a return to the form of his first two albums, Between Midnight and Day in 1995 and Fish Ain't Bitin' in 1997.  But Fulton Blues differs from those earliest albums by including just a taste of soul and reggae.  The variety gives the album a texture somewhat similar to Harris' 1999 classic, Greens From the Garden.  It opens with a sort of jump blues-inflected "Crying Blues" before settling into the acoustic Delta blues pattern on "Underground" that dominates most of the rest of the album.  It continues in that acoustic vein with the exception of "Tallahatchie," a sort of fusion piece complete with horns; the soul-reggae inflected "House Negro Blues;" his electrified version of "Catfish Blues," originally recorded on his first album; and the jazzy instrumental "Fat Duck's Groove," which closes the album out.
Most of the tunes are originals, with Harris putting a new spin on "Catfish Blues" and "Lynch Blues," which he first recorded on Greens from the Garden.  Harris'  band includes Chris Whitley on piano, Kenneth Joseph on drums, Gordon Jones on sax and Jayson Morgan on bass.
---
About the author:
Bill Wilcox is a roots music enthusiast recently relocated from the Washington, DC area to Philadelphia, PA and back again.
---