Welcome to 1978. Hardworking, hard rocking Skinny Molly's new release, Haywire Riot, is an unabashed throwback in the tradition of southern rock bands Molly Hatchet and Lynyrd Skynyrd.  Led by frontman Mike Estes, a member of latter-day iterations of Lynyrd Skynyrd since the mid-1990s, the band was intended as a fun diversion but Estes said it became his primary musical vehicle when he realized the sound was what he always wanted.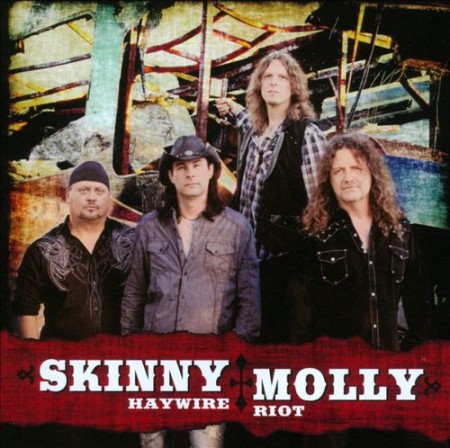 With Haywire Riot, Estes accomplished what he was seeking.  If listeners are looking for subtle, sensitive lyrics, they should look elsewhere.  Skinny Molly takes its scruffy 1970s bar band approach to the hilt.  From the first licks on the opener, "If You Don't Care," through "Dodgin' Bullets," the final number, the album features big, loud guitar solos and straight-forward rock vocals.  There is not much variety on Haywire Riot. Only the next-to-last track, "None of Me No More," features an acoustic opening and verses  – but it climbs in to a southern rock crescendo on each refrain.
Skinny Molly, featuring Jay Johnson on lead guitar along with Estes, Kurt Pietro on drums and Luke Bradshaw on bass, hasn't created great art or fine music with Haywire Riot, the band's second album following its 2008 debut, No Good Deed …, but it has created exactly what Estes was going for – a rollicking good time to bring back memories of shot-gunning "brewskis" in your best friend's basement and cruising the strip in your Pontiac Le Mans Coupe.
---
About the author:
Bill Wilcox is a roots music enthusiast recently relocated from the Washington, DC area to Philadelphia, PA and back again.
---