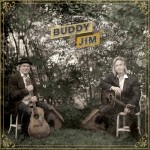 It is a collaboration that has been a long time coming. In fact, it is so natural that it is hard to believe this is their first album together, especially since they are old friends who have run in the same musical circles for decades. "Buddy and Jim" is a very straightforward album. Lauderdale has always been a traditionalist. Miller, on the other hand, has been mostly traditional as a performer; but tends to push the envelope as a producer. In this case, they stick to the traditional, but stylistically they cover the breadth of the Country landscape. That being said, the true strength of the album is the fact that they approach it as a duet, and not as two individuals making a record together.
Their team attitude is showcased right out of the gate on their most rocking song "I lost My Job of Loving You". They follow this song up with a traditional Country tune, "The Train that Carried My Gal From Town". Every song on the album is strong, but here is one song that seems to stand out among the entire group. "Forever and a Day" showcases the duet in the fullest sense. It is also a song that I expect to be covered by more than a few artists. Along the way they get a little Cajun ("Down South in New Orleans"), play some Blues ("I want to Do Everything for You") and conjure up images of Sun Records ("Lookin' for a Heartache Like You").
"Buddy and Jim" comes across as two friends having a good time. In the end we all end up having a good time. I hope this collaboration is the first and not the last.
---
About the author:
Chip and his family live in Birmingham, AL. Roll Tide!
---