Ok Twangville readers, here is another entry in our recurring feature that switches up the normal review protocol. Inspired by frequent long email chains over the years between myself, fellow Twangviller Todd Mathis, and my twin brother Kyle Petersen, Duct Tape Saves Live is more of a critical conversation than a formal review. Though to be fair, the conversation below is a bit cleaner and more serious than our normal email chatter (less insults and name calling, more intellectual music baloney).
We only intend to do these for 'big' records where we (and hopefully most Americana fans) have some context for discussing the record at issue.
Alternate names considered for the feature included the following:
Ruminations on the Transcendental Possibilities of Melodic Explorations
Three Jacka***s Talk About Records
Heavy Drinkin', Easy Listenin'
Libya: What Should Have Happened
Sex on the Beach: How Country Music in the Age of Cultural Reproduction Creates a Temporal Vortex Allowing an Escape from out 21st century Existential Dilemma
Note: The last two were Todd's and Kyle's respectively.
If anyone likes any of these better or wants to nominate their own suggestion, comment below or shoot me an email at eli@twangville.com.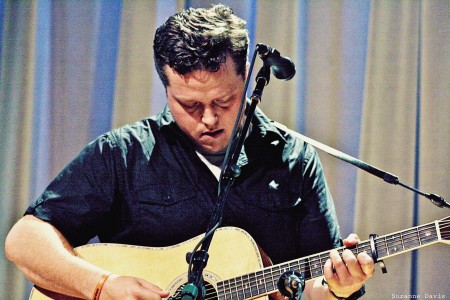 ELI: This is my first exposure to the new 4 piece line-up without guitarist Brown Lollar. What do you guys think of the new line-up/sound?
TODD: Kyle and I saw him a little over a year ago in Columbia as a 4-piece. I think it was this new line-up but I can't be for certain. I've always been a fan of Jason's songwriting and this stuff sounds pretty filled out to me…although another guitar wouldn't hurt, especially when Jason solos I think it loses a bit of "umph."
KYLE: That's one of the first things I noticed listening to this record—while I think the reduced lineup works really well for some of the lighter fare Isbell has been writing lately, the lack of a fuller sound on tunes like "Decoration Day" really seems to take away a lot of the sonic might that really defines a lot of these songs. That being said, I think this might be my favorite version of "Danko/Manuel."
ELI: Yep. First impressions were that Isbell was noodling a little much (on "Decoration Day"), but some of the songs sound absolutely gorgeous with just the one guitar ("Danko/Manual" and "In A Razor Town"). I also agree with Kyle on the evolution of Isbell's sound. The DBT stuff will always sound a little less 'rocking' without the three guitar line up. However, the more soulful nature of Isbell's better solo work is highlighted by the more minimal treatment. I even prefer the live versions of "In a Razor Town", "Heart on A String", "Cigarettes and Wine", and "Dress Blues" over their recorded iterations.
TODD: The live "Dress Blues" is cool, but I think I'll stick with the studio version. That was a powerful song when I first heard it. This record was pretty Trucker-heavy but I guess with only 3 solo records it had to be. And let's face it, those are some of his best songs. How do you guys think his songwriting has evolved?
KYLE: He's definitely still writing strong songs today, but I kind of buy the argument that the first six tunes he recorded with DBT (from Decoration Day and The Dirty South) are also still really his best, with the possible exception of "Never Gonna Change," which was a bit paint-by-numbers even if it did one-up Patterson Hood at his own game. I don't think this feeling is because of craft or even of subject matter though, but rather that the kind of songwriter Isbell has wanted to be seems to have evolved a bit over time, with an emphasis on genre-hopping and sonic shifts, which has led to writing which just doesn't have the same sort of impact as his early work. He's at his best as a songwriter with an acoustic guitar on solo records, and seems to lose a lot of identity when he straps on the electric. Those DBT songs really saw him harnessing all of his talents in a way I don't think we've really seen since. I feel like I'm beating around the bush a bit with those comments, but hopefully that makes sense.
ELI: Damn Kyle, that's the sort of meandering answer that I usually give. But, I do see your point. I think it's a constant game us Isbell fans play, asking ourselves rhetorically why every song he writes isn't "Outfit" or "The Day John Henry Died". Listening to Here We Rest, I think I finally got over that hurdle and quit the little comparison game. I thought that record sounded well worn and comfortable in a way that the self-titled record never did, which got me to thinking about what I really expected/wanted from a Jason Isbell solo record.
Isbell's writing with DBT (and I think most people do what Kyle did and just ignore A Blessing and A Curse) was great because he gave us that sense of place and character that made those records great. To make some sort of grand statement about the evolution of Isbell's songwriting, you have to start form the premise that he doesn't do that anymore or perhaps has been doing less of it. I just don't think that premise lives up to any sort of scrutiny.
Sirens of the Ditch was recorded before Isbell left the Truckers and should be considered in that context. It was a side-project of songs that Isbell was recording knowing that his space was limited on a Trucker's record. That leaves us only two albums for comparison, the self titled record and Here We Rest. While I think the self-titled record is the weaker of the two, it still has songs like "Seven Mile Island", which I think would have been a DBT classic. Here We Rest has songs like "Alabama Pines", "We've Met", and "Codeine", all of which could be described as character studies. So maybe Isbell's writing hasn't evolved in the way we are thinking. Maybe it's not a massive evolution. Maybe these three things are true, 1) Jason Isbell is simply maturing as a writer, 2) he still writes the same number of 'DBT' songs, and 3) he also writes a bunch of other kinds of songs.
TODD: Lofty responses indeed gents. I think your 1, 2, 3 response is true Eli. He's just branching out more and sometimes that can be hard for the listener, and even more so given that we were introduced to Isbell in the context of Decoration Day and Dirty South. And if we're being honest here, it is always tough on artists when their first recognized work is seen as successful. If the listener liked that, they are always going to be biased and go back to that for comparisons no matter how good/fresh/new the "mature" stuff is.
KYLE: Todd makes a good point about old/new comparisons that we probably should take to heart when it comes to Isbell. I think he opens himself up to it, though, by going so DBT-heavy here on the live album. And even setting that aside, what's up with this selection of solo songs? One of my little quibbles with Isbell's solo shows has always been the amount of what is (in my mind) fairly excellent material he passes over for just-okay songs. Do we really need to hear him do "The Blue" or "TVA" instead of, say, "Codeine" or "The Magician"? I hate to be an armchair quarterback, but…well, I guess I'm doing it anyway.
ELI: Hmm. I actually don't have many quibbles with the track selection. I actually quite like "TVA" and thought "The Blue" was one of the better songs from the self-titled record. I was also happy to have "Goddamn Lonely Love" and "Decoration Day" on there. In fact, I would have supported more DBT stuff on there. Especially with the new line-up, I think presenting the DBT songs in a new context makes sense. It kind of puts the Jason Isbell & the 400 Unit brand on them.
My only real issue is why give us only one thirteen track CD? Why not whole hog and do a 2 CD set that go gives the real feeling of a live show? My guess is that the answer to that question has more to do with vinyl and offering a more digestible record. Come to think of it, I should get this record on vinyl.
TODD: Vinyl smynl. I don't have the room for it. Let him keep a good band together for 2 or 3 years, then give us the double live album encompassing everything.
KYLE: I think I'd lean a bit more on Todd's side here. Having seen Isbell a fair amount over the last few years, this definitely sounds like a band still in transition, which (come to think of it) so does Here We Rest. I know he won a lot of praise and awards for that record, but I'm not sure he's really given us his masterpiece yet. There's probably a better live record down the road, unless he gets Ryan Adams-itis.
On the other hand, and contrary to my griping earlier, I tend to believe that live albums are documents that can tell a particular story about a band or artist that can't really be told in the studio. And this record does that admirably I think—it notes the lighter, more diverse approaches Isbell has taken over his solo career, the sonic shifts in the 400 Unit, and the still overwhelming shadow that DBT casts over the whole thing. So whatever else we think of it, its arguably the most honest live document he can give us that establishes where Jason Isbell the artist is, circa 2012.
Photo By: Suzanne McMahon
---
About the author:
Specializes in Dead, Drunk, and Nakedness..... Former College Radio DJ and Current Craft Beer Nerd
---