Normally a reissue of an old record isn't such a big deal, but the December 2012 reissue of John Hartford's Aereo Plain/Morning Bugle CD was a big deal for bluegrass fans because Aereo Plain, one of the most important records of the bluegrass – or "New Grass" – revival in the 1970s, had been almost impossible to find for years.  Featuring Norman Blake on guitar and mandolin, Tut Taylor on dobro and mandolin, Vassar Clements on fiddle and Randy Scruggs on bass, Hartford's 1971 release of Aereo Plain, with his humorous lyrics referencing pop culture and excellent musicianship, helped carve out a place for bluegrass in the hippie subculture.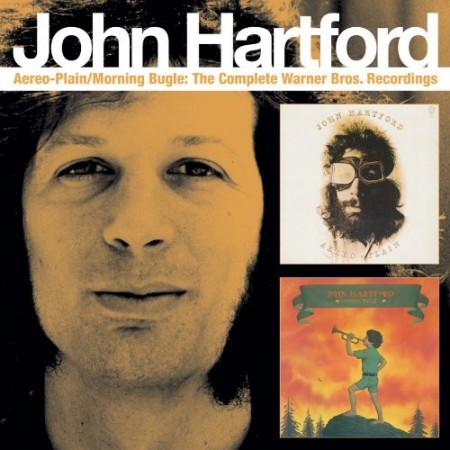 Composer of the Glen Campbell hit "Gentle on My Mind," Hartford gained some exposure as a sort of novelty artist on the Smothers Brothers Comedy Hour and on Campbell's own television show.  But there was much more to Hartford than the his brief period in the limelight would show.  A multi-talented musician, Hartford was expert on just about any instrument with strings, and he was a devoted ambassador for traditional music.  Born in New York in 1938 but a native of St. Louis, he had a childhood out of Mark Twain mythology, mastering the fiddle and banjo by age 13 and working on a riverboat for his first job.  In  the 1960s, he moved first to Nashville and later Los Angeles to pursue his career but found time to earn his riverboat pilot's license.
In 1971 and 1972, back in Nashville, Hartford recorded his two albums for Warner Bros., Aereo Plain and Morning Bugle.  Aereo Plain, with a hirsute Hartford in airplane goggles staring from the cover, was not a big seller but it was destined to become a classic.  With songs like "Turn Your Radio On" and "Steamboat Whistle Blues," Hartford proved he was a master at traditional bluegrass music.  But with "Back in the Goodle Days" and "Up on the Hill Where They Do the Boogie," Hartford added lyrics that made the music relevant to a counter-culture searching for an organic form of music.  The album was produced by a young David Bromberg, who would himself establish a substantial body of work in roots music.  Part of what made Aereo Plain a collector's item was that it was out of print for many years.  A collection of outtakes from the 1971 recording session, Steam Powered Aereo-Takes, was released in 2002 but the main album continued to be hard to find.
Hartford's follow-up to Aereo Plain, Morning Bugle, released in 1972, was another creative success.  It again featured the work of Blake, although Clements and Taylor did not return, and Miles Davis collaborator Dave Holland replaced Scruggs on bass.  It featured great songs, including the poignant "Nobody Eats at Linebaugh's Anymore."
After parting with Warner Bros., Hartford put together a one-man show, sporting his signature bowler hat and vest, and toured alone for several years starting in the mid-1970s.  Mark Twang, released in 1976, featured some of his best solo work and garnered him a Grammy.  In th 1980s, Hartford was back collaborating with other artists – 1987's Gum Tree Canoe was a creative success.  But by the late 1980s, Hartford was struggling with non-Hodgkin's lymphoma, although he continued to perform and record until shortly before his death in 2001.
But with the reissue of Aereo Plain and Morning Bugle, some of the best of this great artist's work, along with eight previously unreleased tracks, is available once again.
---
About the author:
Bill Wilcox is a roots music enthusiast recently relocated from the Washington, DC area to Philadelphia, PA and back again.
---