The Damnwells
The Damnwells burst right out of the gate with the rocking "55 Pictures" from their exceptional new release. The set was electric as the band veered from brawny rockers to moody ballads. Almost as entertaining was the young girl – I'm guessing 4 years-old – who jumped on stage to join the band. Her mother tried to stop her but the young lady would not be denied.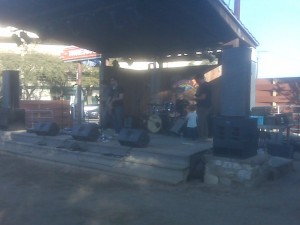 Audio Download: The Damnwells, "55 Pictures"

Audio clip: Adobe Flash Player (version 9 or above) is required to play this audio clip. Download the latest version here. You also need to have JavaScript enabled in your browser.


[Source: The Damnwells]
The Parlotones
Already a big success in their native South Africa, the Parlotones high energy rock is poised for a larger stage. Consider them South Africa's answer to the Killers, hopefully with a bit less pretension.
Audio Download: The Parlotones, "Giant Mistake"

Audio clip: Adobe Flash Player (version 9 or above) is required to play this audio clip. Download the latest version here. You also need to have JavaScript enabled in your browser.


[Source: SXSW]
The Resignators
I left the Parlotones mid-set to catch the back half of Melbourne, Australia ska band the Resignators. It was easily the best back-to-back set of the week. Singer Francis Harrison bounded around the room with authority but I was most enchanted by trombone player Ellen Morabito. Either way, it was a high energy set.
Audio Download: The Resignators, "Offbeat Feeling"

Audio clip: Adobe Flash Player (version 9 or above) is required to play this audio clip. Download the latest version here. You also need to have JavaScript enabled in your browser.


[Source: SXSW]
Joe Pug
Chicago's Pug has plucked Dylan's guitar from the shelf and picked up on his troubadour ways. Pug's songs resonate with an experience beyond his years and his presence is quietly commanding.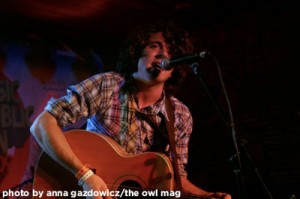 Audio Download: Joe Pug, "Nation of Heat (live)"

Audio clip: Adobe Flash Player (version 9 or above) is required to play this audio clip. Download the latest version here. You also need to have JavaScript enabled in your browser.


[Source: Hearya.com Live Sessions]
Or, the Whale
This is what the Mamas and Papas would have sounded like if they were from Colorado. The perfect band to catch in Threadgill's garden on a Friday afternoon.
Audio Download: Or, the Whale, "Call and Response"

Audio clip: Adobe Flash Player (version 9 or above) is required to play this audio clip. Download the latest version here. You also need to have JavaScript enabled in your browser.


[Source: SXSW]
Angry Vs the Bear
Here is another new band mining a classic 1980's sound, this time in the vein of Missing Persons, albeit with a rougher punk edge. Caught this English quartet at BD Rileys, whose big open windows between the stage and 6th Street enable a band to play as much to the pedestrians as to the club audience. The point wasn't lost on singer Mitzi Fox who at one point was poised to jump out into the street mid-song.
Audio Download: Angry Vs. the Bear, "I Sing, We Sing"

Audio clip: Adobe Flash Player (version 9 or above) is required to play this audio clip. Download the latest version here. You also need to have JavaScript enabled in your browser.


[Source: SXSW]
Starfucker
80's. Yet again. Getting some buzz. Amusing.
Audio Download: Starfucker, "pop song"

Audio clip: Adobe Flash Player (version 9 or above) is required to play this audio clip. Download the latest version here. You also need to have JavaScript enabled in your browser.


[Source: SXSW]
For more Twangville SXSW coverage click here.
Joe Pug photo courtesy of Anna Gazdowicz/The Owl Mag.
---
About the author:
Mild-mannered corporate executive by day, excitable Twangville denizen by night.
---