Bluesman Eric Bibb is the latest in a succession of American musicians to get his passport stamped in Mali since Ry Cooder and the late Ali Farka Toure won the Grammy for Best World Music Recording in 1994.  Bibb's fine collaboration with Malian Habib Koite, Brothers in Bamako, stands up well next to Cooder and Toure's Talking Timbuktu; Taj Mahal's 1999 collaboration with kora player Toumani Diabate, Kulanjan;  Corey Harris' brilliant collaboration with Toure and various Southern U.S.-based blues artists, Mississippi to Mali; and the product of Bela Fleck's African journey, Throw Down Your Heart.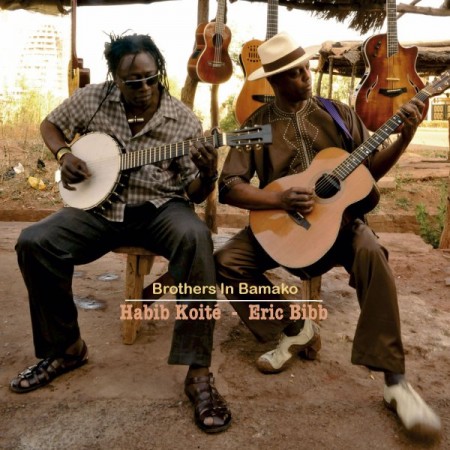 Each of those great collaborations almost certainly owes a bit to Paul Simon's Graceland in 1986, which blazed a trail for American pop artists looking to encounter and work with Africa's great musicians – in Simon's case with South African a capella group Ladysmith Black Mambazo.  But among Africa's musical strains, the musicians of Mali seem to be most often sought out – and it's no wonder.  The Malian pentatonic tradition was one of the major roots of musical strains pioneered by African-Americans – blues, rock and jazz.  For American blues musicians, collaborating with Malian counterparts seems natural, almost second-nature.
Mali seems to be undergoing something of a musical  renaissance despite the country's grinding poverty and political unrest.  In addition to Toure and Diabate (who produced Grammy-winning collaborations of their own prior to Toure's death in 2006), other great Malian artists readers may wish to seek out incude Salif Keita (check out 1987's Soro or the more pop-oriented M'Bemba, 2005), Oumou Sangare (Moussolou, 1989), Koite (Muso Ko, 1995); Ballake Sissoko (whose 1999 collaboration with fellow kora player Diabate is a classic); Vieux Farka Toure (Ali Farka's son, and a great talent in his own right – his 2011 album, The Secret, included contributions by Derek Trucks, Dave Matthews, and John Scofield); Afel Bocoum (Alkibar, 1999)  and Idrissa Soumaoro (Kote, 2003).   Boubacar Traore's story illustrates just how tough life can be for an upcoming Malian musician.  In the early 1960s, Traore's hit song, "Mali Twist," was something of an anthem in the country's early independence, but he received no royalties and had to give up music, eventually moving to France to work construction.  There, he was rediscovered by a British record producer and has been producing albums since returning to music in 1990.  Check out Macire, 2000 or Kongo Magni, 2005.
Bibb and Koite's effort is a mix of traditional African music, folk, gospel and blues offerings, sung in various languages, including some English.  All the songs are acoustic.  The selection is surprisingly eclectic, including African-flavored folk tunes like the opening "On My Way to Bamako" (written by Bibb); Koite's "L.A.," which is a beautiful blend of Spanish and African influences; bluesy mixtures like "Tombouctou;" straight up blues like "We Don't Care;" light instrumentals like "Nani Le;" African folk tunes such as "Khafole;" along with Bob Dylan's "Blowin' in the Wind" and the traditional "Goin' Down the Road Feelin' Bad."  The album works well as a showcase for the talents and versatile styles of Bibb and Koite.
---
About the author:
Bill Wilcox is a roots music enthusiast recently relocated from the Washington, DC area to Philadelphia, PA and back again.
---