Having just had my mind expanded by Jaguar Love on the outside stage at the I Heart Comix showcase on Thursday night, I headed back inside Beauty Bar to discover that the set by Totally Michael, the artist I had arrived at the venue actually intending to see was already in progress. As it turned out, Jaguar Love and Totally Michael, bizarrely, somehow proved to be the absolutely perfect –and perfectly complementary– split of a showcase slot, as I walked inside to witness a scene every bit as euphoric as the one I had just experienced outside … and possibly even more so. Totally Michael was mid-song in the midst of the crowd when I arrived, and he was borne aloft upon the arms of the crowd within minutes.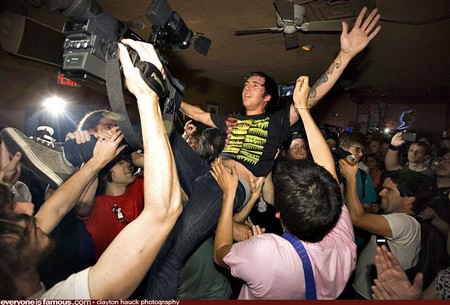 I should mention at this point that the two-man Jaguar Love was a fully-staffed band compared to Totally Michael, which consisted of exactly one guy, his microphone, and his prerecorded backing tracks (which, by the way, were as deliciously hook-laden as they were indebted to '80s new wave). I confess that such a setup would normally not be something I'd expect to like (or even be willing to give a chance). As I was in the process of learning, however, such "rockist" prejudices only serve to prove what a judgmental ass I can be at times.
While I was taking in this sudden insight, I was also busily soaking in my stroke of luck at seeing Jaguar Love and Totally Michael back-to-back, grinning ear-to-ear all the while and madly scribbling notes attempting to describe what I was experiencing … at least until the last two songs of the set anyway. By then, I was practically giddy with delight, for such was my love of what I was seeing, hearing, and experiencing that I turned off my inner blogger and just soaked it all in. I was hardly alone in my reaction, as pretty much the entire audience appeared to be losing its collective mind as well. The final two songs of Totally Michael's set, "Cheerleaders Vs. Drillteam" and "Casual Satisfaction" only served to put everything over the top, and their combined wallop sent me practically floating out of the venue, slack-jawed and more than slightly dazed by what I'd just experienced.
Euphoria really is the best word to describe the sensation of taking in a Totally Michael show. Minutes after it was over, I was on the phone with a friend (who'd unfortunately just spent the past hour mostly bored by a showcase taking place in a church), raving about what I'd just seen, and trying (and almost certainly failing) to capture the magic in words.


As a postscript, Totally Michael's was one of the first albums I purchased upon my return home from Austin. I picked up a lot of South-by artists' music shortly after returning home (in addition to the handful of CDs I bought during South-by), but Totally Michael almost totally dominated my listening for going on two full weeks following my return to the "real world." I'm listening to the album again as I type, and if I'd heard it last year when it came out, Girl Talk's Feed the Animals would've had some serious competition as my pick for the title of Party Album of the Year.
For a taste of Totally Michael, why not give the very tune which brought him to my attention a virtual spin? Here's "Winona," courtesy of SXSW:
Audio clip: Adobe Flash Player (version 9 or above) is required to play this audio clip. Download the latest version here. You also need to have JavaScript enabled in your browser.
Want to read more highlights from this year's South-by? Step right up for all of John's SXSW '09 highlights.
---
About the author:
John Anderson is a SXSW addict, having attended "South-by" every year since 1999. His South-by geekery spilled over into the realm of blogging in 2006, and he is grateful to the Twangville audience for having indulged his South-by ravings since 2008.
---