I'm already on record as thinking that the Hold Steady are among the best live bands in the world. Well, I'm prepared to double down on that statement for the Wrens, who are happily back to performing live shows. This was the first of three sets the band was to play in Austin while on a break from (finally!!!) recording the follow-up to their landmark 2003 release The Meadowlands, but from the stupefying force of their performance, you'd have thought they'd been on the road honing their chops for months.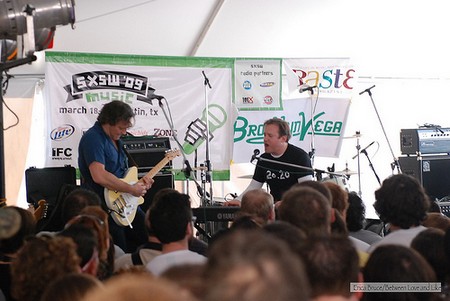 A friend who was unfamiliar with the Wrens asked me prior to South-by how I would describe them. My initial response was, "awesomeness and awesome-osity personified." To say that same friend experienced a conversion of near-religious proportions upon seeing the Wrens live would be an understatement in the extreme. This is a band which inspires gushing praise in response to their live show (he said, as if that weren't perfectly obvious from his own gushing praise).
Watching the Wrens on this particular day, I scribbled in my notebook, "Do the Wrens represent the apotheosis, the alpha and the omega of indie rock bands? They very well might." (Yes, that's straight out of my notebook, and yes, I really am that much of a geek, thanks for asking!) Hell, as long as I'm quoting myself, here's another scribbling: "The Wrens' sound hits you with concussive force, like a heavyweight champ's KO punch."
See what I mean about gushing?
Mid-set, Kevin Whelan announced to the thrilled applause of the gathered congregants, "We're gonna try and play a couple of new jams … this does NOT mean you can go to the bathroom, or go get a soda, or make out." I'll admit that I was a little bit worried over the demos that have surfaced from the Wrens current recording sessions, because they sounded …dare I say it?… kind of weak. Well, let's just say that just as one shouldn't judge a book by its cover, one should never judge a Wrens song by its demo. In the live setting, the new songs possessed every bit of the epic grandeur that one expects … which is to say, they sounded like Wrens songs. 'Nuff said.
Alas, I couldn't find anything but the briefest of video snippets from this particular show, but here's video of the Wrens performing "Hopeless" (their set closer and, incidentally, my favorite song) the following afternoon at the Hot Freaks party. Yes, I was there for this one too:
Want to read more highlights from this year's South-by? Step right up for all of John's SXSW '09 highlights.
---
About the author:
John Anderson is a SXSW addict, having attended "South-by" every year since 1999. His South-by geekery spilled over into the realm of blogging in 2006, and he is grateful to the Twangville audience for having indulged his South-by ravings since 2008.
---