Having been a pretty big fan of the Hold Steady for a few years now, I commend myself for showing incredible restraint in having only taken in two of the four sets they played over three days and nights in Austin … but I should probably confess that this decision was made easier knowing that I'd be seeing their full-length tour-opener at a "secret" show in Maryland within a week of my return from Texas. (And not for nothing, but if I'd gone to their Friday afternoon show, I'd have missed the only opportunity to see the Takeover UK at South-by which, for obvious reasons, is about as good an argument against South-by "reruns" as I can imagine.)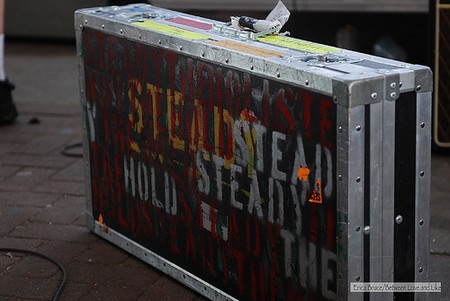 Commendably, the boys did a great job of (intentionally) mixing up their Austin setlists so as to take care of their repeat customers, and the final show they played, late Saturday afternoon at the Rachael Ray party was no exception. Compared to their first South-by set, which I'd seen them play two days earlier (and which felt like a disjointed warm-up, by Hold Steady standards), however, this one was an absolute stunner of a show (even by Hold Steady standards).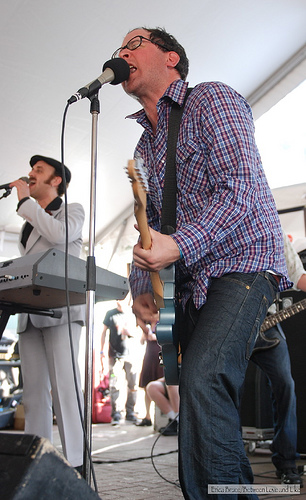 Following on the heels of hostess Rachael Ray's apropos intro ("Are you ready to get unsteady for the Hold Steady?"), the band launched into a goosebump-inducing "Constructive Summer" and, incredibly –especially incredible given the near-stifling heat– they didn't slacken their full-throttle pace even once during their 12-song, 44-minute set. This was the Hold Steady at the very top of their game, which is to say that this was one of the very best live bands in the world on a seek-and-destroy mission. Given that the closest they came to playing anything other than a full-bore rocker was the set-closing "Slapped Actress" (no slow jam itself), I'm not ashamed to admit that with this blistering set, the Hold Steady almost killed me.
Watch "Sequestered in Memphis" from the party:
Want to read more highlights from this year's South-by? Step right up for all of John's SXSW '09 highlights.
---
About the author:
John Anderson is a SXSW addict, having attended "South-by" every year since 1999. His South-by geekery spilled over into the realm of blogging in 2006, and he is grateful to the Twangville audience for having indulged his South-by ravings since 2008.
---