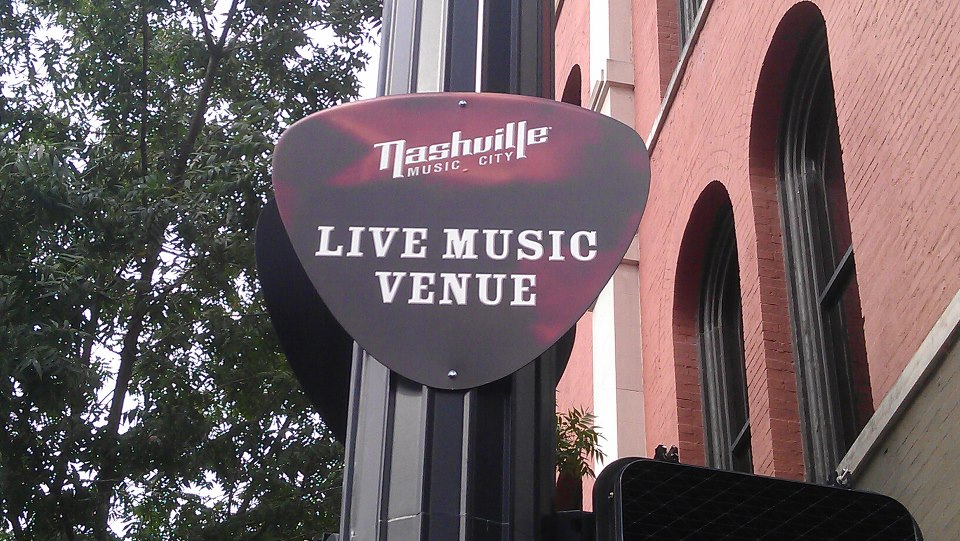 Every fall, The Americana Music Association gathers members and artists together in Nashville for its annual conference. Starting with the annual Americana Music Awards and continuing through four days of showcases and panel discussions, it is a tremendous celebration of Americana music.
---
The Americana Music Awards
Any discussion of the AMA Conference has to start with the annual Americana Music Awards. The awards themselves, individually crafted folk art pieces, speak volumes about the event. They perfectly reflect the warm and personal feel of an event grounded in authenticity.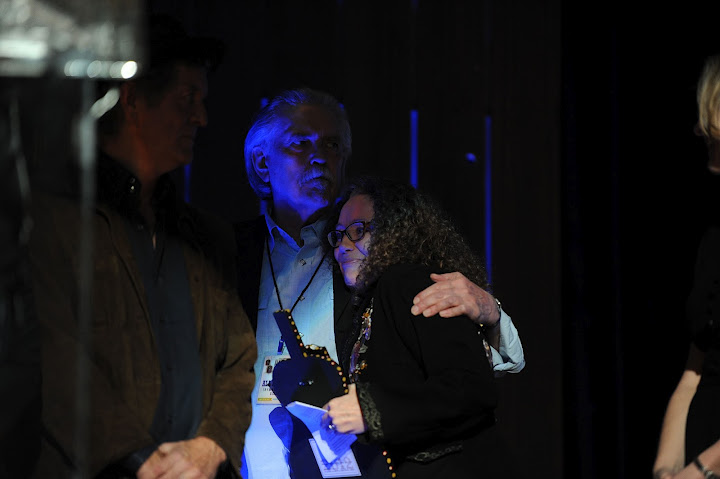 Among the more touching moments was watching Guy Clark walk slowly to the side of the stage with his cane after "The One's For Him: a Tribute to Guy Clark" received the album of the year nod. He stood there quietly in the shadows watching as the album's producers accepted the award.
And how many awards shows feature an all-star house band? Band leader Buddy Miller was joined by Don Was on bass, Larry Campbell on guitar, Brady Blade on drums and Rami Jaffe on keyboard. Not bad for a pick-up band.
Then there's the music. Honorary award winner Booker T. Jones opened the show with the classic "Green Onions" backed by an all-star team of guitarists: Miller, Campbell, Kenny Vaughn, Darrell Scott and, playing lead, Richard Thompson. An incredible moment until itself and one that set the stage for more magical performances to follow:
Richard Thompson performing "1952 Vincent Black Lightning." Guy Clark performing "My Own Favorite Picture of You," dedicating the song to his late wife. Tom T. Hall making a surprise appearance to join Lee Ann Womack and Peter Cooper on Hall's magical "I Love." Bonnie Raitt and John Hiatt leading the house band on "Thing Called Love," the Hiatt-penned song that was Raitt's commercial breakthrough.
All told there were 20-odd musical performances, culminating with a rousing tribute to Levon Helm to close the show. Emmylou Harris joined Amy Helm and many of the evening's artists for a celebratory version of "The Weight." I've no doubt that Levon would have been pleased.
See Shawn's take on the Awards show here.

CMT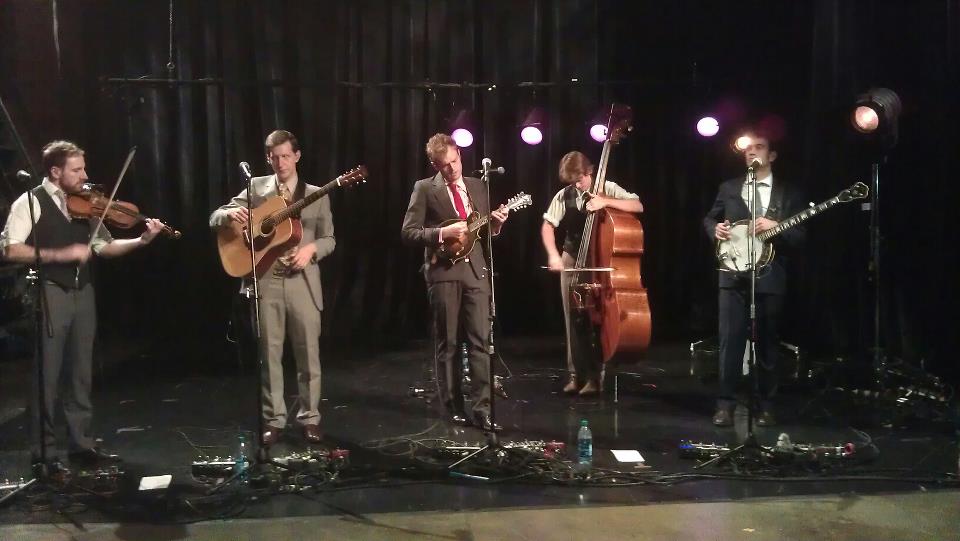 Our friends at CMT celebrated the launch of their new Americana blog CMT Edge with an amazing set of performances from their in-house studio. Imagine standing around a tv studio with a group of 20 or so people watching a parade of talented musicians perform for the CMT cameras. Not a bad way to spend some afternoon time.
The Punch Brothers kicked it all off with a five-song set. Justin Townes Earle closed it with a brief solo set. In between, over the course of three days, were Brandi Carlile, Jason Isbell, Corb Lund & Hayes Carll, Shovels & Rope, Kasey Chambers & Shane Nicholson and Sara Watkins to name a few.
More than a few in attendance were CMT staff enjoying what is a mighty fine job perk. Call me jealous.
Songwriter Rounds
Nashville, as much as any city, can claim to be the home of the songwriter round format. The AMA's saw more than their share.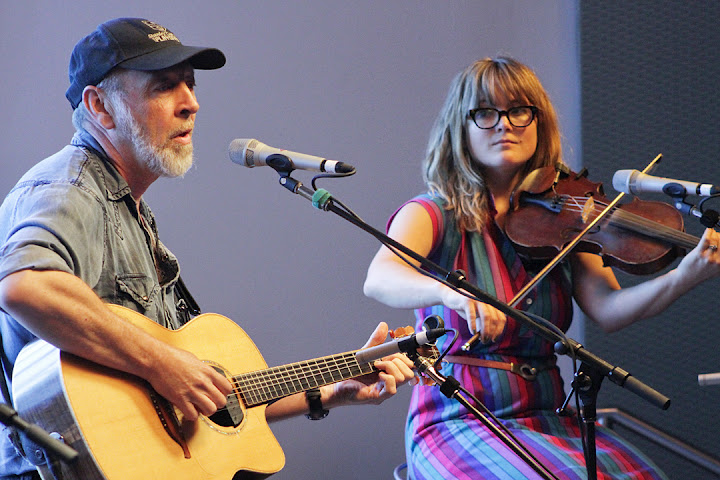 The SiriusXM Studios hosted two intimate sessions, broadcast live on Mojo Nixon's Outlaw Country show. The first was a spectacular round with Steve Forbert, Jason Isbell, Sara Watkins and Richard Thompson. The respect and admiration among the artists shined bright. Isbell commented, "you can't really learn how to play guitar without listening to lots of Richard Thompson records;" Thompson was enraptured as Isbell played "Goddamned Lonely Love."
The second was a tribute to Nick Lowe, celebrating the release of "Lowe Country" and featuring four artists from the compilation: Amanda Shires, Colin Gilmore, Caitlin Rose and Robert Ellis. Each performed their track from the Lowe tribute plus a few of their own. They closed with a sloppy but fun version of Lowe's "(What's So Funny 'Bout) Peace, Love and Understanding."
Another favorite was an AMA panel that turned into a songwriter's round featuring John Fullbright, Anthony Da Costa, Robert Ellis, Lera Lynn, Charlie Faye and Paul Thorn. It was an imposing line-up that didn't disappoint. Each also shared an unreleased or soon to be released song, making it a special performance.
Community
It's impossible to talk about the event and not speak to the sense of community that imbues it. Industry events can often feel stilted, but not the AMAs. The AMA's are small enough to still be an intimate event, large enough to attract impressive talent.
One of the cool things about AMA is seeing musicians enjoying themselves as fans. Patterson Hood and Jacob Dylan hanging out at the Levon Helm tribute, Mike Mills among the small crowd watching Chris Stamey, Steve Earle sitting at a table catching the Mastersons, and Jason Isbell and Amanda Shires sitting front and center for Richard Thompson's songwriter session at the Country Music Hall of Fame.
Levon Helm Tribute
Levon Helm cast a long shadow over the first night of the Conference. The celebration of the legendary singer and musician began with the aforementioned star-studded version of "The Weight" that closed the Awards show. Emmylou Harris joined several of the nights performers and award winners, including Bonnie Raitt, John Hiatt, Richard Thompson, Booker T. Jones and Brittany Howard.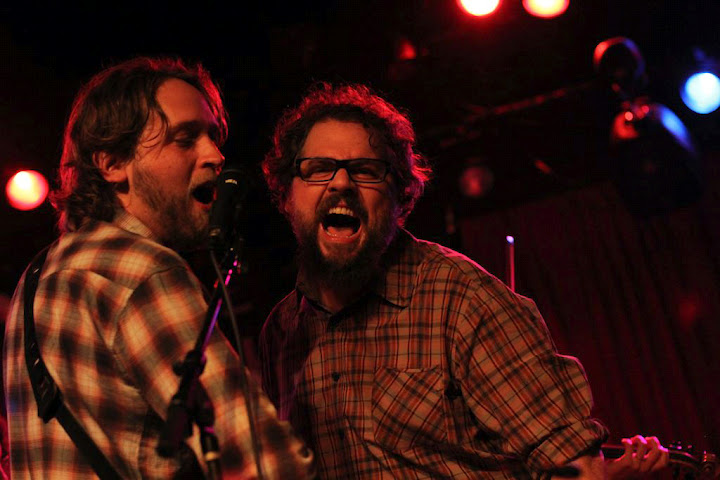 The full celebration began later at Nashville's Mercy Lounge, where a host of artists took on the Helm canon. It's hard to go wrong with Paul Thorn cruising through "Up On Cripple Creek" and Jason Isbell taking on "Don't Do It." Hayes Carll perhaps said it best, "I got to play this song five times with Levon Helm and they were the five highlights of my life." He then joined Jason Isbell, Amanda Shires and others for another rousing go at "The Weight." Adding to the moment was a clearly excited Patterson Hood, who blew right by me as he rushed to join the festivities on the stage. All for Levon.
---
Click here for more Americana Music Conference coverage.
Photo credits: Erika Goldring (Guy Clark), Billie Jo Sheehan (The Punch Brothers), Krissie Gregory (Richard Thompson and Sara Watkins) Kim Jameson (Levon Helm tribute)
---
About the author:
Mild-mannered corporate executive by day, excitable Twangville denizen by night.
---