Credit for my discovery of the Takeover UK goes to my friend Erica (whose gorgeous photos I'll be appropriating, with her kind permission, for use in my own South-by scribing whenever possible), who put me onto them a few weeks prior to South-by. As with my initial Wild Light listening experience, I liked everything I heard on the Takeover UK's MySpace and was anxious to catch them live. Turns out they weren't even playing an official showcase, but had made the trek from their home base of Pittsburgh to Austin to headline the Sonicbids party on Friday, at which time they proceeded to dazzle your humble correspondent.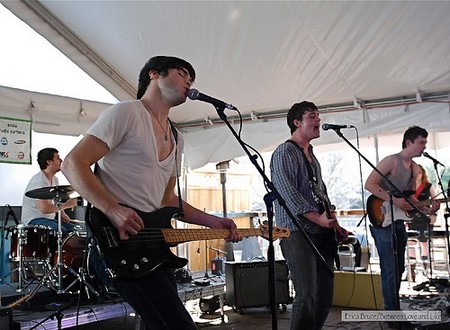 As their moniker implies, these lads are most assuredly musical Anglophiles –nevermind that they're actually American– who were presumably raised on the radio of '60s and '70s British acts like the Beatles, the Kinks and the Jam. By injecting and amplifying aspects of those influences with Britpop, power pop, and garage rock with reckless abandon, the Takeover UK have concocted a powerfully addictive musical cocktail that I defy you to resist. Somehow in spite of their readily apparent influences, the Takeover UK present as a breath of musical fresh air in today's musical soundscape, sounding not only original, but utterly unlike any other band I was to hear all week. Their debut album, Running With The Wasters, dropped on 3/25, and since the lads were giving away free copies after their set in Austin, I speak from experience when I say, in the immortal words of Ferris Bueller, "if you have the means, I highly recommend picking one up."
Check out the Takeover UK at their Britpoppiest with "Ah La La" from Running With The Wasters, courtesy of Rykodisc:
Audio clip: Adobe Flash Player (version 9 or above) is required to play this audio clip. Download the latest version here. You also need to have JavaScript enabled in your browser.
Want to read more highlights from this year's South-by? Step right up for all of John's SXSW '09 highlights.
---
About the author:
John Anderson is a SXSW addict, having attended "South-by" every year since 1999. His South-by geekery spilled over into the realm of blogging in 2006, and he is grateful to the Twangville audience for having indulged his South-by ravings since 2008.
---