The Riverboat Gamblers are a band whose .mp3 jumped out of the South-by torrent and practically punched me in the face 2-3 years back, so knocking me out with their Misfits-by-way-of-Austin sound that I knew I just had to see them live. Alas, as it turned out, my seeing them live wasn't destined to occur until this year, but was their performance worth the wait? Oh, my, yes.
Not only do the Riverboat Gamblers have the songs (though, surprisingly, the strong Misfits influence that drew me to them in the first place was little in evidence; at least in the songs included in this Friday night setlist at Buffalo Billiards), but in frontman Mike Wiebe they've got a supercharged wild man who's a natural showstopper of a performer. Providing a suitable metaphor for South-by, Wiebe asked early in the set, "how many of you are hung over for the second time today?" The near-capacity crowd roared in the affirmative by way of response, and Wiebe wryly replied in turn, "well then everything is proceeding as planned."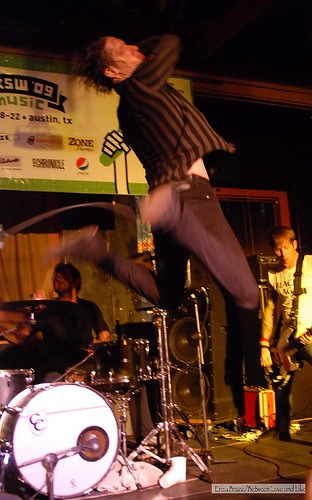 During the course of their set, Wiebe prowled the stage like he was marking his territory, and when he wasn't stalking around the stage, he could be seen atop the stacked amps, catching air onstage, or borne aloft by the arms of the crowd, belting out his vocals all the while. Before their set drew to a close, Wiebe went crowdsurfing no less than five times by my count. And the songs? Bursting with ragged punk glory, they're every bit as boisterous as the man who's belting them out. The Riverboat Gamblers effortlessly deliver rock 'n' roll at its most urgent, it's most unapologetic, and it's most uproarious. Who could ask for anything more?
Unfortunately, I wasn't able to find any video from this particular show, but the official video of "Victory Lap," my personal favorite song from the Riverboat Gamblers' new album is chock-full of live footage that might as well have been shot at this show, seeing as I think it only serves to underscore everything I've just written:
Want to read more highlights from this year's South-by? Step right up for all of John's SXSW '09 highlights.
---
About the author:
John Anderson is a SXSW addict, having attended "South-by" every year since 1999. His South-by geekery spilled over into the realm of blogging in 2006, and he is grateful to the Twangville audience for having indulged his South-by ravings since 2008.
---