The yearly AMA awards kicked off with a bang in the delightful Ryman Auditorium in Nashville last week.  The house band, Buddy Miller, Don Was, Larry Campbell, Brady Blade and Rami Jaffe, was joined by Booker T. Jones, who later took home the Lifetime Achievement Award for instrumentalist, on organ and Richard Thompson, Darrell Scott, and others on guitar for a blistering Green Onions.  Green Onions?  Is that Americana?  Well, as host Jim Lauderdale put it when asked to define Americana music, "We usually just say it's the good stuff."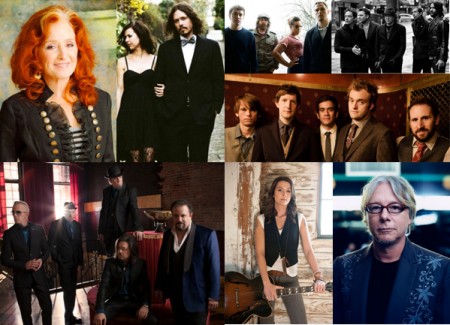 Jones also put in an appearance during Emerging Artist of the Year winner Alabama Shakes performance of Be Mine.  The Shakes have developed a passionate following, myself included, but adding the veteran Jones anchoring the rhythm section to singer Britney Howard's vocals and it rose to a new level.  Another highlight early in the evening was Lee Ann Womack filling in for Patty Griffin to perform Song of the Year nominee I Love by Tom T. Hall, with Hall himself appearing for the last couple of verses.  (The full list of winners is shown below)
The evening was filled with magical moments and it seemed we were just about to the highlight when the Lifetime Achievement Award winner for songwriting, Richard Thompson performed his classic '52 Vincent Black Lightning.  But then the Mavericks took the stage to do a Miami-tinged Come Unto Me that showed the band's chops and crooner Raul Malo's vocal chords are still as jaw-dropping as ever.  From there it went to the Lifetime Achievement Award winner for performance, Bonnie Raitt, doing Thing Called Love with the song's writer, John Hiatt.
All that left was the night's encore, a tribute to Levon Helm, with daughter Amy opening up The Weight.  Other verses were sang by Raitt, Howard, Hiatt, Thompson and surprise guest Emmylou Harris.  The instrumental backing was, well, too star-filled to even capture.  It was a tremendous cap to a wonderful evening and show.
Americana Music Awards and Honors 2012 Award Winners:
Instrumentalist of the Year: Dave Rawlings
Album of the Year: This One's For Him: A Tribute to Guy Clark; produced by Tamara Saviano and Shawn Camp
Song Of The Year Award :  "Alabama Pines;" Written by Jason Isbell and performed by Jason Isbell and the 400 Unit
Emerging Artist of the Year:  Alabama Shakes
Artist of the Year: Gillian Welch
Duo/group of the Year: The Civil Wars
Lifetime Achievement for Performance: Bonnie Raitt
Lifetime Achievement Award for Instrumentalist: Booker T. Jones
Lifetime Achievement Award for Songwriting:  Richard Thompson
Lifetime Achievement Award for Executive: Dennis Lord
Click here for more Americana Music Conference coverage.
---
About the author:
I've actually driven from Tehatchapee to Tonopah. And I've seen Dallas from a DC-9 at night.
---