Some albums infect you slowly, like some kind of happy virus, where you finally just wake up one morning and realize you got the fever.  Others, like the latest release from Jerry Douglas, Traveler, are more like your kid brother hitting you up side the head with a baseball bat and then standing over you shouting, "is this a great game or what?!"
The album starts with On A Monday, a Leadbelly tune with Jerry playing slide guitar and singing lead.  It's funky and swampy and bluesy and I could put it on repeat for the rest of the summer and not be unhappy.  Next up is Something You Got, with Eric Clapton on guitar and lead vocals, Sam Bush on harmony, and Dr. John on piano.  'Nuff said.  From there it goes to an instrumental, So Here We Are, with Douglas on lap steel, Viktor Krauss on bass, and Omar Hakim on drums.  I want to hear this configuration cover some of the Weather Report back catalog.  Then, like a bolt of lightning from the blue sky, comes an anthemic take on the Simon & Garfunkel classic The Boxer.  This one features Paul Simon and Mumford and Sons.  I'm pretty sure at this point I had to hit pause and look for an oxygen mask.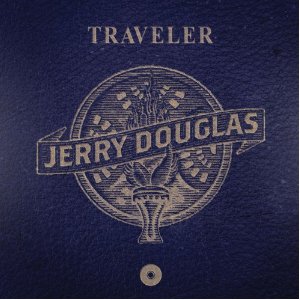 Lest you think there's nothing on this album for the bluegrass and Americana fans, the next tune is an instrumental, Duke And Cookie.  It's Douglas on dobro and Bush on mandolin, and took me back to the days when I could not fathom why the traditional music crowd was so dismissive of New Grass Revival.  There's another brief blues break with High Blood Pressure, featuring Keb Mo, but then it's on to Gone To Fortingall, a very twangy song with Bela Fleck on banjo, Krauss on bass, and Hakim on drums, with each of them playing a "traditional" part that would sound at home at any 21st century bluegrass festival.
I don't want to give away all the secrets on Traveler (yes, Alison Krauss & Union Station do make a guest appearance).  So maybe the best thing is to summarize the project in its entirety by thinking of it as two EP's intertwined, with Douglas' unmatched musicianship the tie that binds.  One EP is a blues/R & B record that features exalted guests and background tracks of horns and electric guitars.  The other will appeal to long-time Douglas and New Grass afficianados.  Together they make up one of the best releases I've heard this year.
---
About the author:
I've actually driven from Tehatchapee to Tonopah. And I've seen Dallas from a DC-9 at night.
---