When it comes to hooks & songcraft, lately Ben Kweller seems like he has it down to a science. Since his self-titled record (2006), Kweller has become increasingly accessible. Somehow, he has married candy pop hooks with indie rock acclaim. He sings in a decidedly gentle pop vocal (see Josh Rouse or even Paul Simon). His vocal is so relaxed that it must rely heavily on the hooks and songcraft to convey the emotion. But luckily the hooks are there in spades.
Kweller, though he looks like he's about 15, demonstrates a deep pop sensibility that belies his actual age (27). At first listen, Kweller's voice seemed a bit out of place on a country record. But after only a few spins, the hooks were in me like a small mouth bass. Kweller seems to have made peace with the old neighborhood. He'll never be a country crooner, but with songs so strong, he doesn't need to be.
Ben Kweller – Fight (live on Letterman)
Surprisingly, the strongest tracks here push Kweller the deepest into the country swing. Both lyrically and sonically, Kweller has changed his sound completely. The pedal steel flurries don't break your heart but instead add a sonic layer that feels very natural. Kitt Kitterman adds beautiful steel lines particularly to the instantly catchy "Wantin' Her Again." This song sounds like an AM radio hit with pedal that could have been on a Hank Williams record. The following track "Things I Like to Do" mines familiar lyrical territory. Its innocent pop sentiments hearken back to the self-titled Kweller record.
The more rollicking upbeat numbers are certainly the catchiest, but this record has more to give than catchy hooks. "Old Hat" is a slower more emotional and lyrically complex tune. Kitterman's pedal again demonstrates the beauty of the instrument and its transformative power. Kweller sings, "But I'd rather be erased than hold you down / I never want to be the old hat you put on your pretty head." Though quite subtle, Kweller seems concerned with the danger of comfort in a relationship and truly caring about someone else (and what that means). Quite poetic for someone known more for his hooks than his words. I didn't even mention the irresistible country shuffle "Fight" (full of honky-tonk piano licks and all).
While not perfect in every way, Kweller has managed to draw together his pop sensibility with his country background. The best records are such unlikely unions. The songs have been so expertly written that the pop sheen is something to embrace (without an asterisk). Kweller's 35 minutes of recording seem just about perfect to reconnect his current life to his formative years in Texas. Hopefully Kweller will embrace the twang again in the not too distant future. It's too good to pass up.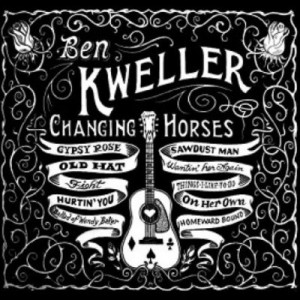 ---
About the author:
Jeff is a teacher in the Boston area. When not buried correcting papers, Jeff can be found plucking various stringed instruments and listening to all types of americana music.
---