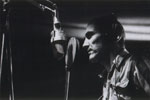 A tour through Paul Kelly's catalog is a musical journey filled with sharp themes, clever lyrics and engaging melodies. Here are a few choice selections.
Everything is Turning to White (from 1989's So Much Water So Close to Home)
A woman's spine-tingling tale of her husband finding a young woman's brutally murdered body on a recreational fishing trip. "They carried her downstream from their fishing; between two rocks they gently wedged her. After all they'd come so far, it was late; And the girl would keep; she was going nowhere."
How to Make Gravy (from 1998's Words and Music)
Originally written for a Christmas compilation only to be rejected by the album's producer. In live performances Kelly explains that he wasn't surprised by the rejection – the song is written from the perspective of a jailed man and lacks a chorus. Nonetheless it is a rich character study with just the right touch of melancholy. And, yes, the song does contain a gravy recipe.
Audio Download: Paul Kelly, "How to Make Gravy"

Audio clip: Adobe Flash Player (version 9 or above) is required to play this audio clip. Download the latest version here. You also need to have JavaScript enabled in your browser.


[Source: Paul Kelly]
Deeper Water (from 1995's Deeper Water)
Kelly captures the key moments of a man's life journey through life as he pushes – and is pushed – towards the "deeper water." The song builds from a single strummed electric guitar to a driving full-on band arrangement. Simple yet rich in meaning.
Emotional (from 2004's Won't You Come Around ep)
A poignant reflection on the disparaging conditions in the now-closed Woomera Immigration Centre in Australia "I took the law into my hands; You'd do the same from where I stand; But the punishment here is much worse than the crime; I guess I get a little emotional sometimes." Read more on the song's inspiration.
Audio Download: Paul Kelly, "Emotional"

Audio clip: Adobe Flash Player (version 9 or above) is required to play this audio clip. Download the latest version here. You also need to have JavaScript enabled in your browser.


[Source: Paul Kelly]
Dumb Things (from 1987's Under the Sun)
Call it outback blues, a harmonica-driven rough and tumble rock song that finds Kelly distressed with a romantic relationship. "Caught the fever, heard the tune, thought I loved her, hung my heart on the moon… I lost my shirt I pawned my rings, I've done all her dumb things."
Feelings of Grief (from 2007's Stolen Apples)
The opening track from Kelly's latest release begins with a mystical melody performed on a mey (a Turkish woodwind instrument). As the song progresses, a bass begins to pulse with a steady beat that simulates a heart-beat. It is a fitting musical accompaniment to Kelly's solemn reflection on loss.
Stolen Apples Taste the Sweetest (from 2007's Stolen Apples)
"Eve called Adam in the garden, 'Hey Ad, come over here and look at these, won't you try some?' 'Oh, no' said Adam, 'That's forbidden!' 'Come on now, baby' said Eve, 'What could be wrong with just one little one?' So Adam bit and cried out 'That's the bomb! That's the bomb!'"
Visit Paul Kelly's web site to learn more about this impressive artist. Kelly is also offering up a free music via his A-Z Download Series. Each month brings a new letter of the alphabet and a new collection of songs.
---
About the author:
Mild-mannered corporate executive by day, excitable Twangville denizen by night.
---