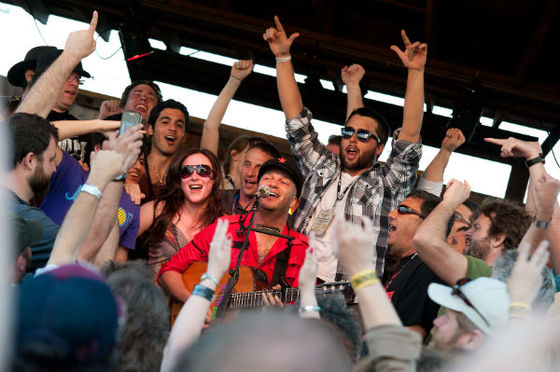 For me, the true harbinger of spring is the arrival of the SXSW Music and Media Conference in Austin, Texas. Or rather, spring begins for me when I arrive in Austin for SXSW. With upwards of 2,200 bands and 19,000 attendees, SXSW is the world's premiere music conference. Even better, it is one heck of a party.
Over the next week I'll be sharing some of my highlights from SXSW 2012.
---
THE MUSICAL THEMES
No Plug Required?


Perhaps the most enjoyable musical theme, for me at least, was the range of acoustic artists. I'm among the first to line up for the wash of an electric guitar but there are times when the quiet musicianship of an acoustic artist just can't be beat. Glen Hansard and Frank Turner, artists whose between-song banter is as sharp as their songs, performed multiple stellar sets. London-based Antonio Lulic was captivating while Denver's the Lumineers were enchanting and, with their debut album just released, are ones to watch.
And then there was Tom Morello, whose guitar reads "whatever it takes," a mantra that he brings to life with his hard-hitting performances.
Attack of the 1980s and 1990s
I want my MTV! Artists who first established themselves in the 1980s and 1990s were out in force. Whether you desired the goth of the Cult or the Jesus & Mary Chain or the pop of Thomas Dolby or Lionel Richie (with special guest Kenny Rogers!), you could find it at this year's event. SXSW has become as much an opportunity to announce one's return as it is to announce one's arrival. Other artists who appeared included Counting Crows and Bob Mould, who delivered an intense performance of his band Sugar's debut album.
Rap, Hip-Hop and Electronic Music Make Their Mark
Two of this year's music themes fell outside the typical Twangville fare. Rap and hip-hop have had an increased presence in previous years but came into their own this year. From up-and-comers playing a showcase to big names playing label gatherings and unofficial events, the genre made its presence known.
DJs and electronica artists also made some noise this year. 24-year old Skrillix got a lot of buzz, although I can't say that I saw him or any artists from this genre. Maybe next year.
---
"THE MUSICAL EQUIVALENT OF "PLUG AND PLAY"
Many artists make their time in Austin count, performing upwards of 4-5 times in a single day. Having made the trip and with a large and captive musically-starved audience, why not? The Lumineers took this to heart and performed no less than 12 times over four days. Quipped Bahamas, "We're playing 127 shows over the next 3 days… We'll be playing anywhere there is a pa." On behalf of the music fans at SXSW: thank you.
---
YEAR OF THE WRISTBAND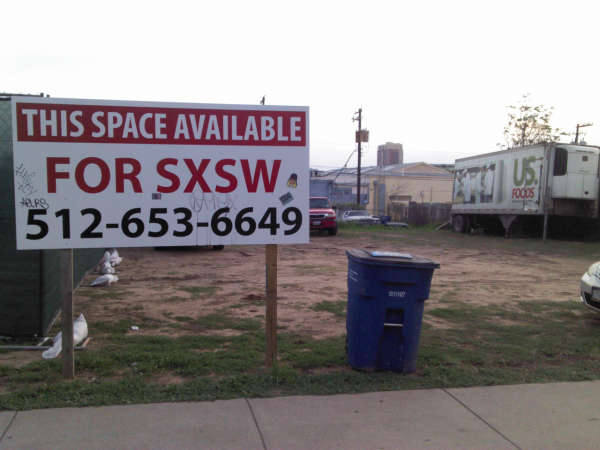 Every year I write about how the quantity of day parties gets bigger and bigger. This year was no exception. The new wrinkle this year it was the rise of the multi-day event. Many party sponsors apparently figured that one day just wanted enough. Three and four day affairs were commonplace, with many taking over stores, bars and yards in East Austin. Many of these show relied on a music venue staple – the wristband – to manage capacity. At one point I had eight bands gracing my wrist. Wristband tan anyone?
---
BIG NAMES, WITH AND WITHOUT CORPORATE SPONSORSHIP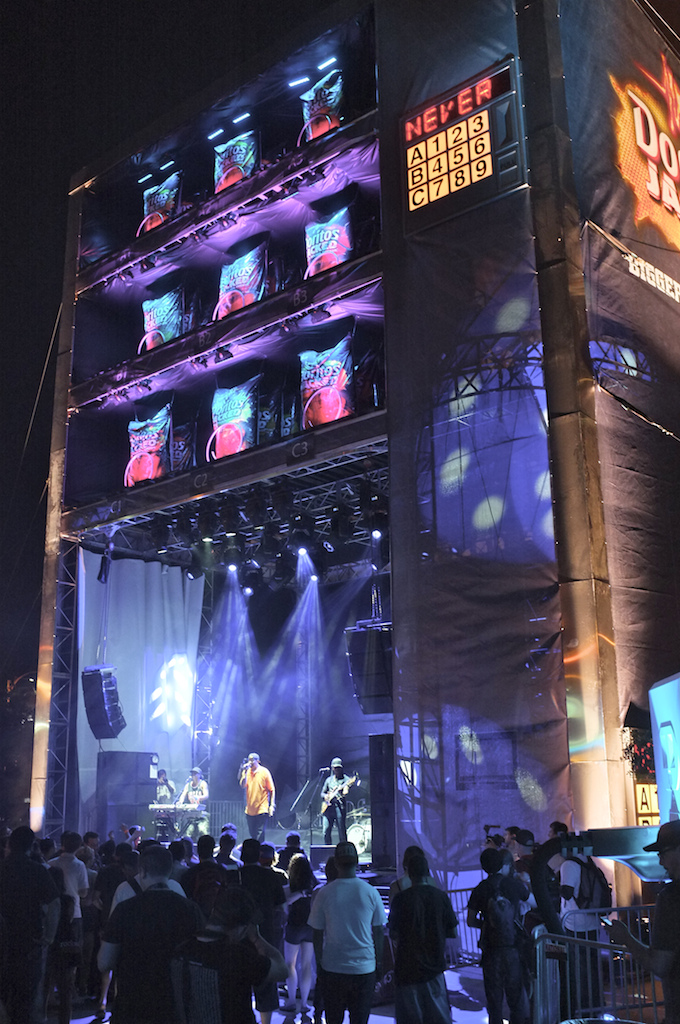 Sure, Bruce Springsteen captured the spotlight, but this year was notable for the plethora of well-known and established artists who converged on Austin. Many of these were promotional appearances sponsored by companies who thumbed their noses at any global economic uncertainty as they looked to make a major splash at the event.
Doritos was the, um, big winner with a stage built a stage into the base of a 56 foot vending machine. Seriously. Snoop Dogg was among the artists featured on the stage apparently built to satisfy those with a super-sized case of the late night munchies.
But Doritos wasn't the only brand using music to reach the masses. Red Bull built a stage on an empty lot and invited artists ranging from Erykah Badu to the Crystal Method to perform.
In some cases, big name artists bypassed the corporate sponsorship and simply threw their own parties. Notable in this camp was 50 Cent, who invited his friend Eminem to join him to perform his 2003 album Get Rich or Die Tryin.
---
OCCUPY SXSW
Regardless of one's political bent, Tom Morello's Occupy SXSW show was not to be missed. Morello, joined by Wayne Kramer (of MC5 fame) broadcast his raucous 1am showcase into the street so that the masses could enjoy it. Then, as the 2am end time approached, Morello invited club attendees to follow him into the street for a few final songs. Under a watchful police eye, Morello and the band led the crowd of several hundred people in Woody Guthrie's "This Land Is Your Land." Continuing on, albeit now acoustic as the power had been shut off, Morello served up his own "Worldwide Rebel Song" as the crowd joined in.
---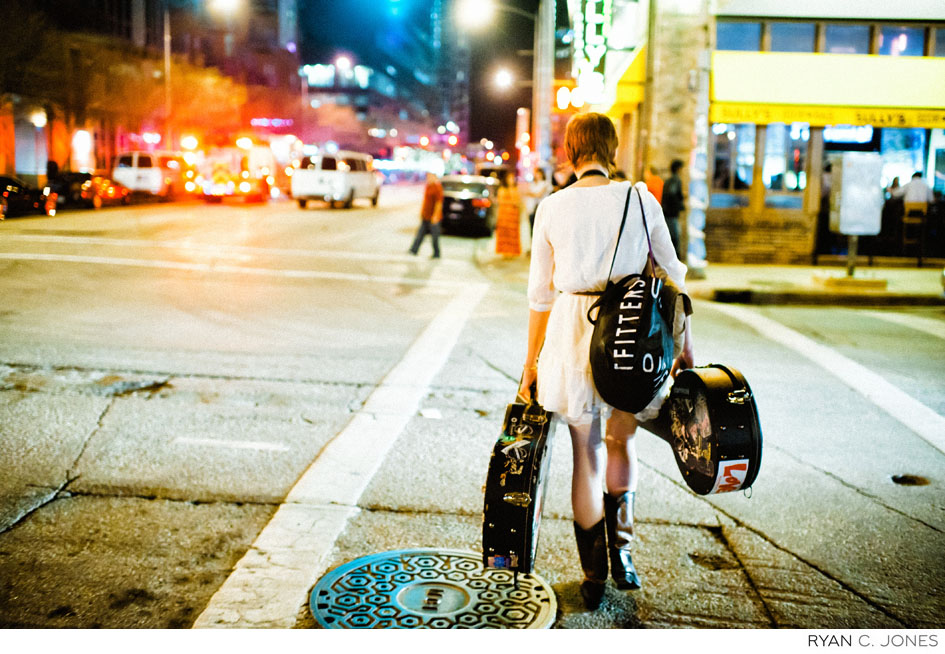 ---

Photo credits: Teenage Kicks (Tom Morello); Matt Carney (Glen Hansard); Derek/Holidaze (Space Available); Ryan C Jones (Artist Walking).
---
About the author:
Mild-mannered corporate executive by day, excitable Twangville denizen by night.
---