The Twin Cities based Honeydogs, who were tantalizingly close to stardom in the late 1990s, have kept their day jobs, survived and now have released a new album that should please their enthusiastic followers.  What Comes After follows the recipe of the band's superb 1997 and 2001 releases, Seen a Ghost and Here's Luck, with simple, straight forward lyrics and exceptional musicianship.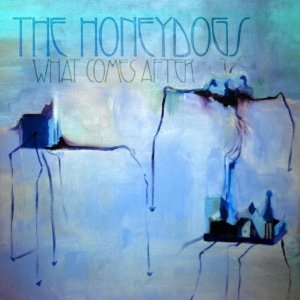 The Honeydogs, led by songwriter and lead singer Adam Levy, came into existence in the early 1990s as an alternative country outfit in the vein of the Jayhawks and Wilco.  Like the better-known Wilco and the Jayhawks, the Honeydogs gradually wandered away from that alt. country flavor, in the Honeydogs' case in favor of an ambitious progressive rock exemplified by 2003's concept album, 10,000 Years, which, although musically strong, was at times inconsistent.
Up until now, Seen a Ghost and Here's Luck represented the sweet spot of the band's career, a point at which the band had hit its stride musically but had not wandered too far away from its simple roots.  Check out the simplicity of "Those Things are Hers" off Seen a Ghost and "Freakshow at the Fair" off Here's Luck, which was a twisted masterpiece.  The albums were ambitious, sometimes with complex instrumentation including a string section (see "Pins in Dolls" on Here's Luck), but they hadn't moved too far away from their lyrical roots.  The Beatles' influence was evident on these albums, but the Flying Burrito Brothers were there as well.
Stardom eluded the Honeydogs, but they have managed to continue as a unit, performing and recording intermittently.  Adam Levy has worked as a social worker and an educator, putting food on the table during the dormant periods.  The Honeydogs' 2003-2009 releases, 10,000 Years, Amygdala and Sunshine Committee, were enjoyable, but they lacked the unique Honeydogs sound evident on the 1997-2001 recordings – no more Flying Burrito Brothers.
What Comes After is a step back in the direction of those excellent 1997-2001 albums.  It has some tremendous, melodic tunes.  It opens with a bluesy, accoustic riff on "Particles or Waves" and continues its surprising journey from there.  Some highlights are "Aubben" and "Better Word," which would have sounded perfectly in place on Here's Luck, "Blood is Blood," which includes a little banjo picking for for those who crave a little twang, and there are string accompaniments ala "Pins in Dolls" on "Everything In Its Place" and "Turned Around."  The album isn't perfect (the song "Death By Boredom" is aptly named), but it is the best from the Honeydogs in years and stacks up well with their best work.  Those who enjoyed Seen a Ghost and Here's Luck will should be delighted with What Comes After.
---
About the author:
Bill Wilcox is a roots music enthusiast recently relocated from the Washington, DC area to Philadelphia, PA and back again.
---