The Carolina Chocolate Drops, whose informal folksy jug band approach belies a talent pool that is seemingly bottomless, have added another gem to their already stellar catalogue with Leaving Eden.  The Drops, who in their live shows recreate the look and feel of a turn-of-the 20th century string band but with the anachronistic addition of human "beatbox" vocal percussionist Adam Matta, have compiled a 15-track album that captures the excitement of those live shows.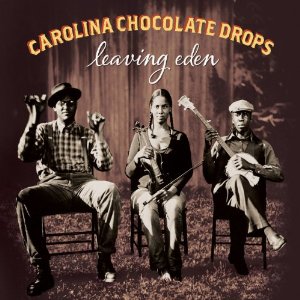 Initially formed in 2005 after meeting at the Black Banjo Gathering at Appalachian State University in North Carolina, the Drops have changed personnel but maintained that raw, old-timey flavor with multi-instrumentalists Don Flemons, Rhiannon Giddens and Hubby Jenkins playing a variety of banjos, fiddles, guitars, jugs and bones.  In performance, the presence of vocal percussionist Matta creates a deceptive aural cue – listening, one keeps expecting to see someone on stage with a drum set (I saw the Drops open for Bela Fleck and the Flecktones last year, which, with Futureman tapping his drumitar, creates a similarly deceptive sound vs. appearance).  
The musicians are all excellent, but it is Giddens that puts the attitude into the music.  On Genuine Negro Jig, their Grammy-award winning 2010 release, Giddens' singing on "Hit 'Em Up Style" was a highlight of that recording.  On Leaving Eden, she belts out lead vocals on "Ruby, Are You Mad at Your Man?," "Country Girl," and "West End Blues" with the verve of a Janis Joplin.  But she is not a hoarse torch singer – the crisp, clear musical quality of her voice is steady throughout her excellent solos.  
 The Drops were formed as a traditional-style string band like something John or Alan Lomax might have stumbled upon during the Depression, but with the inspiration of their mentor Joe Thompson they have taken their music to a place all its own.  Leaving Eden, which was produced by Buddy Miller, is another special record by a special group of young people.
Audio Download: The Carolina Chocolate Drops, "Country Girl"

Audio clip: Adobe Flash Player (version 9 or above) is required to play this audio clip. Download the latest version here. You also need to have JavaScript enabled in your browser.
---
About the author:
Bill Wilcox is a roots music enthusiast recently relocated from the Washington, DC area to Philadelphia, PA and back again.
---