Driving east out of Bakersfield you see it long before you get there, the heat shimmer distorting lines and colors, and yet somehow it kind of sneaks up on you.  One minute you're in civilization, the next…nowhere.  California's high desert has inspired musicians from Gram Parsons and the Eagles to Ted Nugent and Queens of the Stone Age.  I suppose it's the way you feel so achingly cold and alone in the middle of a 100 degree sunny day.  Or maybe it's the carefree feeling you somehow experience in the middle of a freezing cold, moonless night when half the creatures you may run across can kill you.  Emotions and circumstances between Mojave and Barstow carry no relation to each other and reality blurs.  That's the conflict I See Hawks In L.A. has managed to capture in their latest release, New Kind Of Lonely.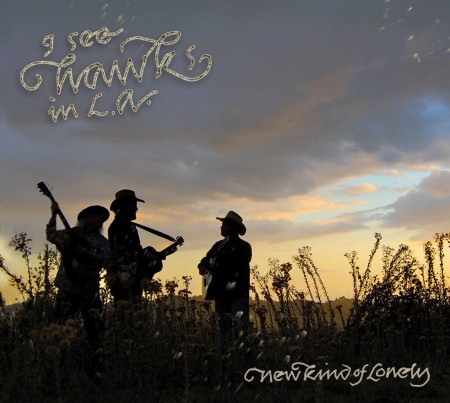 The flag-bearer for that conflict is The Spirit of Death, a tribute to too-soon-gone fiddle goddess Amy Farris.  It speaks to the only thing inevitable beside taxes, and then finishes with a tap-your-foot, happy-go-lucky fiddle part by guest Gabe Witcher.  This was definitely one of my favorite tunes on the album.  In the same vein is Your Love Is Going To Kill Me, exploring the joy of marriage yet realizing the stress it adds can be, well, life-shortening.
Lest you think this is just music to slit your wrists by, the Hawks keep the dark lyrics fully in check with an intricate layering of guitars and harmonies that just listening to on the surface brings back many of the light-hearted sounds that attracted the world to the California country rock of the 70's.  There's also a touch a Norteno in Highland Park Serenade, and jam band syncopation in my favorite tune, I Fell In Love With the Grateful Dead.  Like some of the place and time stories of previous albums (Humboldt and Slash From Guns 'n' Roses come to mind), the Hawks blend personal experience and an eye for the soul of the tale that should leave a lot of Deadheads nodding in appreciation.  And Hunger Mountain Breakdown is a bluegrass anthem anyone from the hills of Kentucky would be proud of.
The Hawks sometimes say they live in the margins of the music business.  I'd counter that the notes in the margins say as much about a book as anything.  And I See Hawks In L.A. fills those white spaces admirably.
---
About the author:
I've actually driven from Tehatchapee to Tonopah. And I've seen Dallas from a DC-9 at night.
---