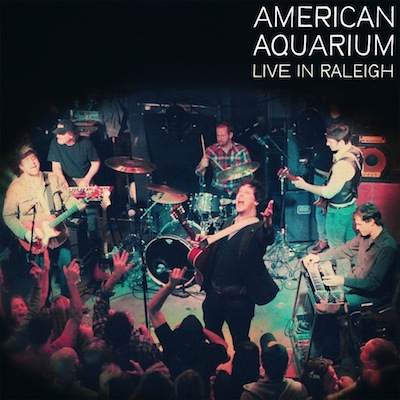 North Carolina's American Aquarium has certainly made the most of their tenacious touring and effective self-promotion over the past few years. With their last two studio albums, Dances for the Lonely and Small Town Hymns possessing an irresistibly comfortable blend of country and rock, and the band's live shows having gained a reputation for being not-to-miss events, it makes perfect sense that the five-piece, led by vocalist B.J. Barham would finally release a live album.
American Aquarium – Live in Raleigh has all the things a good live album should have. An effective mix of quality soundboard-recorded performances with the proper amount of audience whooping and hollering. It's clear that American Aquarium chose to make proper use of their hometown advantage, knowing that a revved up crowd of familiar faces would give the recordings a punch and an urgency that wouldn't be as lively anywhere else.
The strength of the songs is as clear here as they've been on the earlier albums. Barham's inventive dirty talk about getting it on with the most addictive of lovers is certainly material for a fun live tune. The sheer southerness of Barham's drawl makes songs that equate ferocious sex to a religious experience just go over perfectly.
The one album misstep – and it's a big one for me, at least – is that when provided a chance to turn their heartbreak-turned-into-hatred anthem "I Hope He Breaks Your Heart" into a searing, sweaty show-ending catharsis that puts a satisfying finish to the band's set, they take the easy way out and avoid singing a single note, only allowing the crowd to chant-along. Bummer, man.
Bands inviting the crowd to sing-along to the chorus of a beloved tune is nothing new, but for a band to take their best song, the show ending song, no less, and turn it into a full-length crowd-sized kumbaya moment is odd. To take away Barham's drunken angst and force that makes the studio version of the chorus so powerful is a crime. Sure, bands love hearing their songs sung back to them by adoring fans. No one wants to rob them of a couple of lines worth of that glory, but for the whole damn song? Imagine the Drive By Truckers not singing a word to "Let There be Rock", or the Old 97's letting only the crowd sing to "Timebomb," and you get the picture.
Regardless of that less-than-satisfactory ending, the rest of the album is certainly one that deserves the attention of any long-time fan, and will provide newcomers a great sampler introduction into the work of American Aquarium. Country rock isn't anything new these days. But a bands such as American Aquarium that uses energy, clever writing and and an ability to play in a way that seems to force ears to keep listening will always be in demand.
---
About the author:
I likes me some wine, women and waffles, not always in that order (but usually). Chaucer is cool, but fart jokes are even better. You feel like spikin' your country with a little soul or mix in a little rock without the roll? Lemme hear from ya!!
---