Sena Ehrhardt is a big voice from a smal town. Ehrhardt's third album, Live My Life, is a polished musical offering that is sure to cement her reputation as a rising star in blues music.
Originally from a southern Minnesota town known more for lunch meat than blues music, the dynamic singer inherited her passion for blues from her father, who worked in regional blues bands for 40 years.  She attributes her ambition to growing up in a musical household and credits opportunities to see touring acts, including a performance by Luther Allison shortly before his death that took her breath away.  After graduating from college, she paid her early dues in her father's band, Plan B, which gradually became the Sena Ehrhardt Band when her reputation took hold.  On her first two albums, Leave the Light On in 2011 and All In last year, her band continued to be a family affair, with her father anchoring as lead guitarist.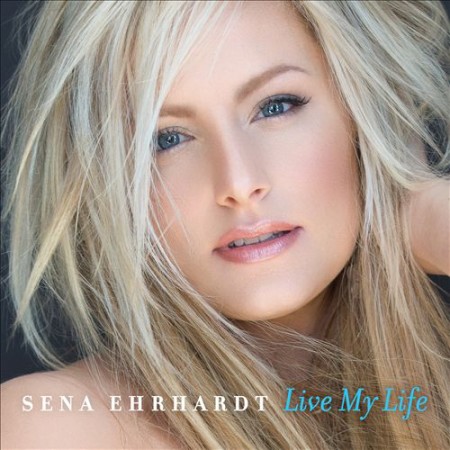 But on Live My Life, Cole Allen replaced father Ed on guitar and also became her songwriting partner.  The album, like the glossy cover, is slicker than her earlier albums and may have some crossover appeal among rock audiences.  But at its heart it is still a blues album, and Ehrhardt's talent is in the blues.
Live My Life is a mix of originals and covers.  Ehrhardt and Allen's "Things You Should Know" and "Everybody is You" are solid tunes.  The title tune, written by Allen, is a fine blues-rocker.  She also does a good job on covers such as Leon Russell's "Help Me Through the Day" and Albert Collins' "If Trouble Was Money."
Along with Ehrhardt and Allen, the album features St. Paul Peterson and Rick Roussell on bass, Michael Bland and Paul Peterson on drums, and Bruce McCabe on piano, with guest appearances by rhythm guitarist Jimi "Primetime" Smith and slide guitarist Smokin' Joe Kubek.  The album was produced by prolific Minneapolis sound master David Z.

Audio Stream: Sena Ehrhardt, "Everybody Is You"

Audio clip: Adobe Flash Player (version 9 or above) is required to play this audio clip. Download the latest version here. You also need to have JavaScript enabled in your browser.