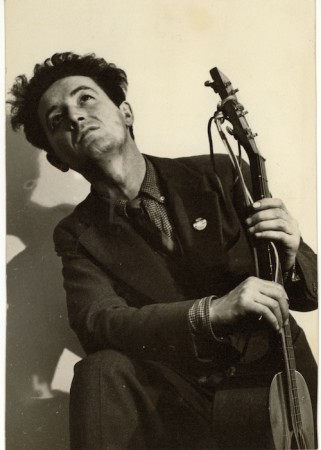 Woody Guthrie has a storied place in music history. He is one of those touchstones that continues to inspire both musicians and activists around the world. Heck even the poor souls folks who aren't familiar with Guthrie have undoubtedly sung a few verses of his seminal "This Land Is Your Land."
Although he is most often associated with his birthplace of Okemah, Oklahoma and his time spent in California during the 1930's "Dust Bowl" era, Guthrie spent 27 years living in New York City.
The forthcoming My Name is New York is a three-disc set that chronicles Guthrie's New York City years through stories and song.
Two of the discs features interviews with folks like Pete Seeger (in one of the last interviews before his passing), Woody's son Arlo Guthrie, and Ramblin' Jack Elliott among others. Consider it a verbal walking tour of 19 locations around New York City that were stops along Guthrie's journey.
The third disc is a treasure-trove of Guthrie gems. These include the first recording of the seminal "This Land Is Your Land" and two home demos. There are also several tracks featuring other artists – including Billy Bragg & Wilco and the Del McCoury Band – performing Guthrie's music. Proof that the legacy lives on.
Here is Guthrie's home demo for "My Name Is New York":

Pete Seeger telling the story behind the song "Tom Joad":

Photo Credit: Photograph by Alfred Puhn. Courtesy of Tamiment Library at NYU