Although my recent interest in bluegrass has certainly been controlling lots of airtime on my  stereo, Nickel Creek bridge the gap of old and new. Somehow, they managed to sneak into the Americana/Indie Rock section of the record store in my college days and I've been a fan for the near decade of their existence. When I heard about their most recent record, I was weary of a "reunion" record. But this is one example of an album where a hiatus actually did the band a boatload of good.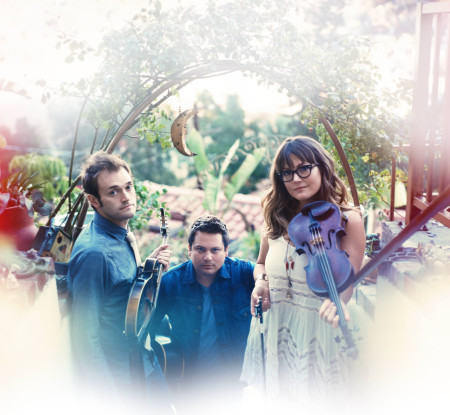 I've seen shows at the House of Blues in Boston and it's large open size makes it far less intimate than my preferred venues. But somehow, Chris Thile, Sarah and Sean Watkins managed to make the crowd feel like they were at a small bluegrass venue. Thile regaled the crowd with storytelling and Sarah Watkins' angelic voice filled the cavernous arena.
But the highlight of the night was the truly varied set of songs. The fourth album has given the band a catalog that can easily fill a long setlist (20 songs) with both consistent songcraft and musicianship. From the recent "A Dotted Line," Sean Watkins' "21st of May" was an immediate standout. His tale of the billboards announcing the impending rapture on that fateful date inspired the song kept the crowd engaged between songs. The performance was tight and the beautiful performances by Thile and Sarah Watkins to accentuate the dynamics of the song.
Old favorites "This Side," "Somebody More Like You" and "The Lighthouse's Tale" highlighted the emotional songwriting of the band. The songs were both engaging, tightly arranged, and showed varied songwriting growth. The instrumentals serve as the musical foil to these tunes. In fact, Thile talked about all the the different instrumental tracks and gave them thumbs up, okay, or thumbs down based on the titles that the band wrote (amusing the crowd with ease). He mentioned these as an intro to "Elephant in the Corn" (which is definitely a thumbs up for me). The tune, along with "Scotch & Chocolate" and "Smoothie Song" established that the band is not afraid to push their shows more to the technical bluegrass side.
Old favorites like "The Fox," "When in Rome," and "Doubting Thomas" take on new life next to new compositions like "Destination" and "You Don't Know What's Going On." In fact, the former set were not my favorites, but I certainly appreciated them more as I heard them performed by the newly mature Nickel Creek.
The band has managed to bring itself back to life. They can play with the best bluegrassers, write indie rock tunes, and rock the house of blues. As disappointed as I was when they went on hiatus, I am equally excited to see how they've grown and rekindled an even more magical synergy. Don't miss them.