After performing continuously since 1985, Eden Brent has really come into her own as one of the shining lights of blues piano during the past five years.   Her accolades have included Blues Music Awards for acoustic artist of the year in 2009, for acoustic album of the year for Mississippi Number One that same year, and the Pinetop Perkins Piano Player of the year in 2010.   A lightning fast piano player, she plays a boogie woogie piano style akin to Marcia Ball and Deanna Bogart, but when she slows it down on Jigsaw Heart and demonstrates her songwriting chops she really shines.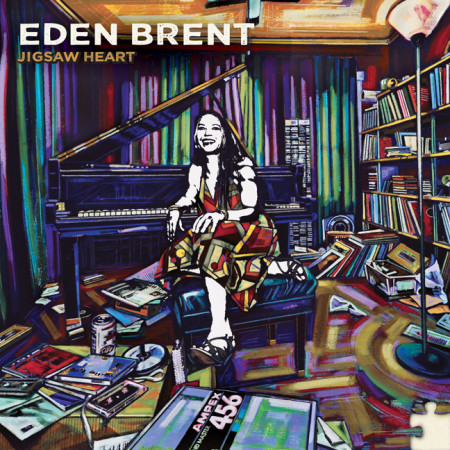 A native of Greenville, Mississippi, Brent followed the likes of Roy Orbison and Don Henley into the music program at the University of North Texas.  After graduating, her real education began when she started working with bluesman Boogaloo Ames and stayed with him for 16 years.   She paid her dues with Ames and ventured out on her own in 2001 with her first solo album, Something Cool, appearing in 2003.  After her award-winning Mississippi Number One appeared in 2008, she released Ain't Got No Troubles in 2010.
Her latest album, Jigsaw Heart, will likely build on her growing reputation.   Always a great piano player, her songwriting really shines on Jigsaw Heart.  The slower title tune, "Better This Way" and the album's best song, "The Last Time," really demonstrate her songwriting ability.  Those songs not only evoke images of Brent's native Mississippi but also spark thoughts of common experiences in people's lives.  Covers "Panther Burn," by Jimmy Phillips, and Tom Hambridge and Colin Linden's "Valentine" further demonstrate Brent's ability to carry off a slower, reflective tune.  But there are also characteristic boogie woogie piano rides like Eden's original "Everybody Already Knows" to provide some variety and keep the album bounding along.
Brent was joined on the album by Dan Dugmore on pedal steel guitar, John Dymond and Stephen Mackey on bass, Gary Craig on bass, Chris Carmichael on strings, Kenzie Wetz on fiddle, Bryan Owings on drums and Ann and Regina McCrary with background vocals.