Larry "Mud" Morganfield and Kim Wilson have put together a collaboration that features 1950s Chicago Blues akin to Morganfield's famous father, McKinley Morganfield – Muddy Waters. And the surprisingly good tribute album by Waters' eldest son and the frontman from the Fabulous Thunderbirds, For Pops: A Tribute to Muddy Waters, captures that Muddy Waters feel without knocking off any obvious hits like "Hoochie Coochie Man," "I've Got My Mojo Working" or "Mannish Boy."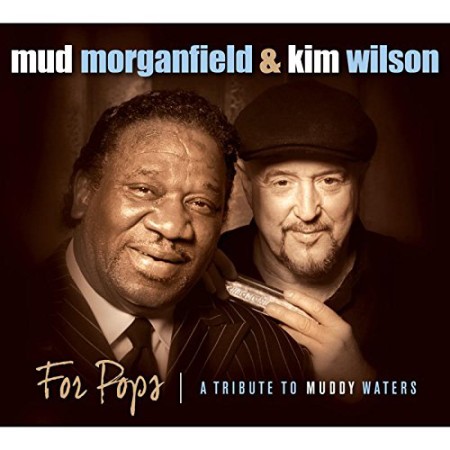 Mud Morganfield is one of two of Waters' sons – the other is Big Bill Morganfield – who are making a name for themselves in their father's business.   He didn't consider a music career until after his father's death in 1983, becoming a professional truck driver for a time instead.  But since 2000, Mud has been building a solid reputation.  releasing his first album, Fall Waters Fall, in 2008.  His second album, Son of  the Seventh Son, released in 2012, included a number of original songs and received some positive critical notice.   Wilson, of course, has held the Fabulous Thunderbirds together since Jimmie Vaughan left the band in in the late eighties.  The band managed to hang together through some ups and downs and, with the release of On the Verge in 2012,  received critical notice as glowing as during their heyday of the seventies and eighties.
On For Pops, Mud's round baritone vocals and Wilson's harmonica establish a a great core for the project, but the veteran crew including guitarists Billy Flynn, who played with Chicago blues standout Jimmy Dawkins and the Legendary Blues Band (with Waters' sidemen Willie "Big Eyes" Smith and Pinetop Perkins) and Rusty Zinn, Barrelhouse Chuck on piano, former Ronnie Earl sideman Steve Gomes on bass and drummer Robb Stupka, who frequently backed the legendary Luther Allison.
For Pops is a tour de force that covers a range of offerings written by Muddy Waters, such as "Gone to Main Street,"Still a Fool," and "Blow Wind Blow."  It also includes songs written by others for Muddy, such as Willie Dixon's  "I Don't Know Why" and "I Love the Life I Live, I Live the Life I Love" and Bernard Roth's "Just to Be With You."  None of the songs were huge hits for Muddy, but they all have that signature Muddy Waters sound, especially when played by this group of veteran musicians. 
Audio Stream: Mud Morganfield and Kim Wilson, "Still a Fool"

Audio clip: Adobe Flash Player (version 9 or above) is required to play this audio clip. Download the latest version here. You also need to have JavaScript enabled in your browser.