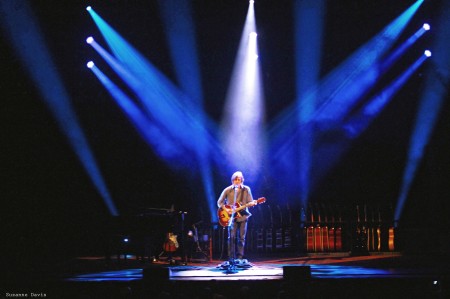 When Jackson Browne walked onto Boston's Opera House stage on a late summer night, it was as though he was stepping into his own living room. The 65-year-old singer/songwriter couldn't have been more adored by the crowd as they showered him in ovation after ovation and listened intently to each note he sang. Some may call him "easy listening," but just because his voice is clear and sounds like it did 40 years ago, doesn't mean that his songs are by any means "soft." They have a poetic sensibility that is laid bare when he's out on the stage alone as he was for nearly the entire night.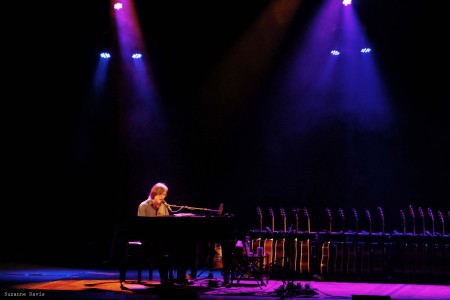 Over the course of two sets and 25+ songs, Browne's easy-going manner and rapport with the crowd seemed almost surreal. He sprinkled in some new tunes in the first set but got the crowd going with standards "For Everyman," "Sky Blue and Black," and one of the most poetic songs I've ever heard: "These Days." Jackson told the crowd that there was no setlist and that didn't bother us one bit. After a barrage of songs shouted at him, he admitted that he was going to play what he wanted anyway. It was delivered in such an unassuming and unpretentious way that the crowd could only clap and appreciate him nonetheless.
In all his years in the business, Jackson's confidence in his craft and the crowd's appreciation. The second set delved further into the treasure trove of Jackson's past. He mentioned the vast array of guitar and claimed that it seemed excessive as he paced back and forth thinking about which song to play next. He regaled the crowd talking about how each of the guitars had a song or two in them and that made each one infinitely more interesting.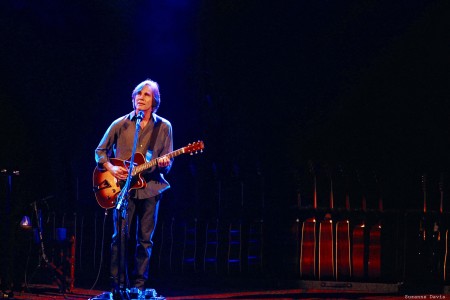 Browne's rendition of "For a Dancer," "Running on Empty," "Doctor My Eyes," and "The Pretender" easily lived up to the original classic recording. His voice is still pristine and the tunes still ring true to this day. The lyrics are easily understood but no less complex and singable.
Browne's final two songs "Take It Easy," which he wrote with Glenn Frey of the Eagles, and "Before the Deluge" from his two classic albums really show the variety in his songwriting and style. "Take It Easy" is a fun, catchy rocker that is easily recognizable, more for the Eagles' version. "Before the Deluge" is a downtempo piano ballad with lyrics that are singable and general as Jackson seems to really be able to sing about "For Everyman." The lyrics "Now let the music keep our spirits high / And let the buildings keep our children dry" seemed to fit perfectly with the feel of the show. Jackson's music somehow tackles tough issues but kept the fans feeling great in the end.
Photos by Suzanne McMahon