by Eli Petersen in Reviews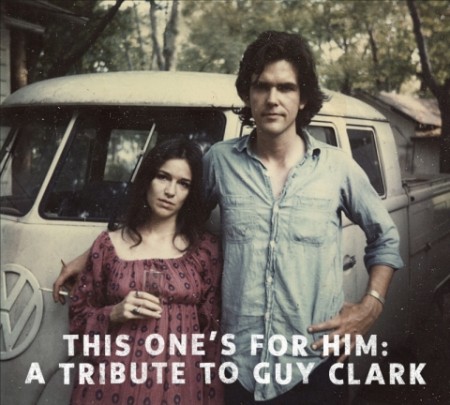 This One's for Him is a tribute to one of America's greatest songwriters, Guy Clark. It was one of my favorite records released last year, though I am just now getting around to a review. It contains, by far, the strongest songwriting of any record released last year. But to be fair, no one else really stood a chance against this 30 song collection of Guy Clark's best.
Lovingly produced by Tamara Saviano, the record features a dedicated house band of some of Guy's closest friends and partners in crime, Shawn Camp, Verlon Thompson, and Jen Gunderman, with others popping in throughout. This continuity goes a long way in creating a seamless listening experience– in contrast to the standard hodge podge of sounds that normally accompany such "tribute" records.
Each of the featured singers brought their guitars and their voices and that was it. The only way to convey the staggering amount of star power that showed up is to list them.
Rodney Crowell
Lyle Lovett
Shawn Colvin
Shawn Camp
Ron Sexsmith
Rosanne Cash
Willie Nelson
Rosie Flores
Kevin Welch
Suzy Boggus
Ray Wyle Hubbard
John Townes Van Zandt
Ramblin' Jack Elliott
James McMurtry
Hayes Carll
Joe Ely
Emmylou Harris & John Prine
Steve Earle
Verlon Thomas
Terri Hendrix
Radney Foster
Patty Griffin
Kris Kristofferson
Gary Nichols, Darrell Scott, & Tim O'Brien
Jack Ingram
Vince Gill
Robert Earl Keen
Terry Allen
The Trisha's
Jerry Jeff Walker
The list says a lot about the kind of respect Guy Clark endears. What says more is the 30 songs featured here, a tour de force of songwriting that seems almost fictional in its depth and breadth. I've been a fan of Guy Clark for years, but I think it really took this record to make me realize how GOOD he is. My initial Clark favorites are all highlights here, Radney Foster's take on "LA Highway," Patty Griffin's soaring interpretation of "The Cape," Kris Kristofferson's trademark growl on "Hemmingway's Whiskey," Vince Gill meeting the challenge on the emotionally charged "Randall Knife," and Joe Ely's iconic rendition of "Dublin Blues." The latter, I have to admit, is probably my favorite Guy Clark song and I love Ely's version.
It was the discoveries on this record that really sent me to cloud nine though, Shawn Camp singing "Homeless," James McMurtry plowing his way through " Cold Dog Soup," the sly Hayes Carll on "Worry B Gone," the other-worldly awesome Emmylou Harris and John Prine dueting on "Magnolia Wind," Steve Earle rumbling his way through "The Last Gunfighter Ballad," Terri Hendrix painting a picture of unparalleled vividness on "The Dark." I could obviously go on and on and on, but I think I've made my point.
This is a great record and I can't recommend it highly enough. I recommend listening on a Sunday morning with the sun streaming across the front porch and a warm cup of coffee in hand. You won't regret it.
---
About the author:
Specializes in Dead, Drunk, and Nakedness..... Former College Radio DJ and Current Craft Beer Nerd
---