As a twangville writer, I rarely listen to the 80s stations. I can't stand the production and electronic drums. It's tough to hear songs by the Boss and Lucinda Williams choked by the little knobs behind the glass. But still, some of those songs are irresistibly fun. They have an undeniable upbeat nature to them just fits so perfectly with bluegrass.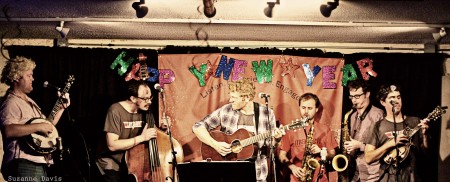 Enter Love Canon. I'd heard of them through Josh Ritter and couldn't get over the amazing concept. Singer Jesse Harper, bassist Zack Hickman (from Josh Ritter's band), banjo player Adam Larrabee, and mandolin player Andy Thacker round out the band. 80s tunes take on a new meaning with their expert picking. After seeing them years ago at one of their first shows in VA, I knew that the transformative power of bluegrass lives on in this band.
The band played a few tunes as they seemed to warm up themselves and the crowd. Their first electric rock cover really got the show in motion. Axl Rose himself may not have recognized "Sweet Child of Mine." The song took on a slower acoustic feel that changed the emotional punch of the track, but bluegrass punch it certainly had. And Jesse Harper's vocal totally changed the song.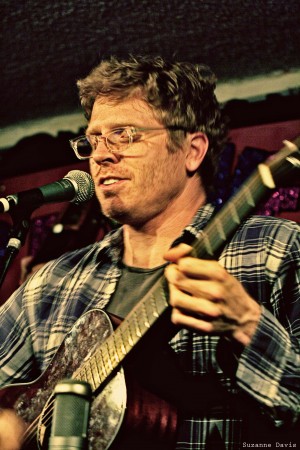 You know that moment when a concert kicks fully into gear and the band truly plays together as one. Love Canon really pushed it up a notch with Don Henley's "Boys if Summer." The banjo and mandolin really got to stretch here and Hickman anchored the rhythm section. The comfort among the players was clear in this song.
The band had a loose feel to it. Co-leader (and Josh Ritter's bassist) Zack Hickman shared the mic and the banter with Jesse Harper. They brought old friends Neil Clery and Mark Erelli up to the stage to lend their voices as well. The audience members loved both "Hello" and "Don't Dream It's Over."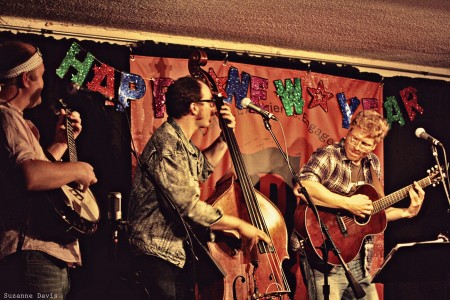 Ronald Reagan (the band, not the man) began the show and lent their horns to the last few tunes. They dubbed themselves "Boston's premier 80s saxophone duo." Their antics and tunes fit perfectly with Love Canon.
What 80s show would be complete without an audience singalong of "Girls Just Wanna Have Fun"? The bands came down from the stage and left their instruments and all (even the server handing back credit card slips) belted out the tune. Can't think of a better way to end my vacation.
No, they don't have a record yet but Love Canon does have a sweet T-shirt and they'll entertain even the most reluctant 80s music fan.
Photos by Suzanne Davis McMahon
---
About the author:
Jeff is a teacher in the Boston area. When not buried correcting papers, Jeff can be found plucking various stringed instruments and listening to all types of americana music.
---