by Mayer Danzig in Interviews, Rock
"Songwriting is a damn mystery," says Will Hoge as we discuss "Draw the Curtain" his restrained yet compelling current release. It's kind of like the Wizard of Oz, he continues, "you don't want to know what is behind the curtain."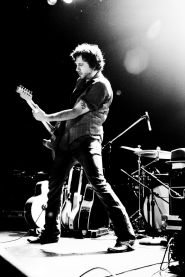 Although Hoge reunited with producer Ken Coomer, producer of 2006's explosive The Man Who Killed Love, the duo took a different approach for this latest release. They first worked up the songs as a duo before bringing the band into the studio, a process that Hoge describes as "liberating." Once they had the basic tracks fleshed out the band arrived to bring "a fresh perspective" to the songs. The net result is a richly textured sound that maintains the core laid-back attitude of the initial sessions.
Finding the Right Touring Partners
Given the amount of time that he spends on the road, Hoge is particular about his touring partners. He subscribes to two rules when considering potential tour companions. First, the band should have an established tour reputation. A band that has played "six gigs in a month all around their hometown" need not apply. Second, he wants to share the stage with artists from whom he can learn new skills and who will inspire him to be a better performer.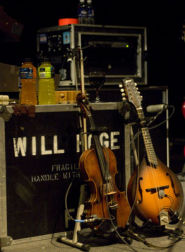 Judging from his track record, Hoge has clearly achieved this latter goal. He and the band have shared the stage with artists ranging from Marc Broussard to the Trews to Matt Mayes & El Torpedo. His most recent tour with Jason Isbell was especially enjoyable. Aside from getting to see two guitarists – Isbell and 400 Unit guitarist Browan Lollar – that he holds in high regard, the two bands had a lot of fun. "They are as big alcoholic rednecks as we are," says Hoge with a laugh.
A particular early career highlight was touring with Australia's legendary Midnight Oil during the twilight of that band's career. "They knew how to be men," says Hoge, contrasting the Aussies with other bands that spend entire careers trying to live in the past. "They had been successful but weren't trying to be 19 forever."
Does he draw additional inspiration to follow in the current-day steps of Midnight Oil singer Peter Garrett, now Australia's Minister of Environment, Heritage and Arts? "Yes," chuckled Hoge, "I'm going to run for president."
Putting Things in Perspective
The birth of his son a year ago has given Hoge a new perspective on touring. It now has a sense of duality that it didn't have previously. Having a son makes him want to be home more to share in his son's growth yet it makes him want to work harder on the road to because, in his words, "I've got a little kid depending on me." It is also a bit humbling that his son doesn't care about music, something that is of tremendous importance to Hoge. So there's no music at home these days? Well, maybe a bit of Barney which Hoge promptly dubs "baby crack."
---
About the author:
Mild-mannered corporate executive by day, excitable Twangville denizen by night.
---