by Bill Wilcox in Acoustic, Country, Folk, Reviews
The invisible line separating the United States from Canada appears to be an impenetrable wall for Murray McLachlan. One of the most respected singer-songwriters in Canada, McLauchlan doesn't seem to have much of a following south of the border. Perhaps he doesn't care.  Over the years, McLauchlan has won 11 Juno awards (Canadian Grammys) and been nominated 24 times. That's Shania Twain territory and well ahead of Neil Young and Leonard Cohen.  In 1993, he was appointed to the Order of Canada, which is apparently a big deal to Canadians. 
I instantly fell in like with McLauchlan's music when I saw him on PBS in the mid-seventies playing with John Prine and Steve Goodman at the Philadelphia Folk  Festival (I remember he sang "Maybe Tonight" from his 1974 album Sweeping the Spotlight Away – "Maybe tonight at the motor hotel there'll be a stewardess and a glass of booze ...").   The Scottish-born, Toronto-raised McLauchlan has a gritty, harmonica-driven style of folk and folk rock that produced some memorable albums for the True North label.   Some of his early work, including Day to Day Dust, which as a teenager I practically wore out on my turntable, is out of print (not to worry, I downloaded the disk into the computer - a miracle of modern technology!).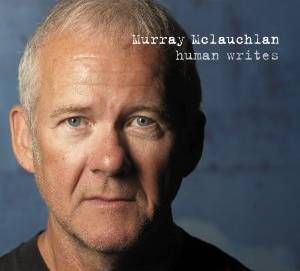 Human Writes is McLauchlan's first album in six years.  It's a good one.  McLauchlan's unique voice shines through in this, his 14th solo album (McLauchlan has recently been a member of Lunch at Allen's, a band that was conceived, quite literally, during lunch at Allen's restaurant in Toronto).  In releasing the album, McLauchlan acknowledged that not all his work has been top-40 material.  "Each album I've released comes from a very personal creative space," McLauchlan was quoted in his True North bio.  "Sometimes your fans connect and join you in that space, and sometimes, unfortunately, they don't."  But  Human Writes should not be one of those lonely trips to the outhouse.   With a supporting crew that includes McLauchlan's son Duncan on trombone and some beautiful songs, this looks like a strong outing.  It is a mellow, introspective effort, however, that isn't for everybody and isn't intended to be.   McLauchlan plays acoustic guitar (a handmade instrument built in 1938), piano occasional harmonica on the album.  The steel guitar and soft trombone accompaniment  give this album an atmosphere that is sweeter than some of McLauchlan's past work.  But the songs are generally good (I didn't care for his ode to the simple life, "Pickin' Up Mary Lou").
Songs from the Street, released by True North in 2007, provides a compelling retrospective of McLauchlan's work.  For the uninitiated, I would recommend starting with that one.  For converts, Human Writes would be a good addition to the collection.
---
About the author:
Bill Wilcox is a roots music enthusiast living in the Washington, DC area.
---