by Chip Frazier in Acoustic, Indie, Reviews, Videos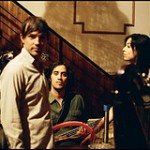 The Barr Brothers are causing a buzz in the Indie world. Their self-titled debut release is a mostly acoustic journey into the duality of human emotion. They explore the context of our true feelings, and the complex emotions that make us betray them. The Barr brothers are not new on the scene, they are the founding members of The Slip. They have dropped the theatrical nature of their former band for a more stripped down, yet complex sound. The album's ethereal undertone is accentuated by inclusion of the harp played by Sarah Paige.
Though mostly acoustic, there is some gritty Rock & Roll, like the Electric Blues on "Lord I Just Can't Keep From Cryin'". Another interesting track is "Give the Devil Back His Heart", which mixes in Native American influences. However, the song that really stands out, and is one of the best songs I have come across this year is the opener, "Beggar in the Morning". The song is perfectly arranged with poignant lyrics. The song provides a very dark but true picture of how relationships can evolve over time. "Hello I'm a monster too and what poisons me is what poisons you too. Into these animals we grew, but when we were young our eyes were blue". Although they are veteran musicians, their debut as the Barr Brothers is impressive and full of innovation.
---
About the author:
Chip and his family live in Charlotte, NC. You can also find him at http://amberwavesoftwang.blogspot.com/ Roll Tide!
---