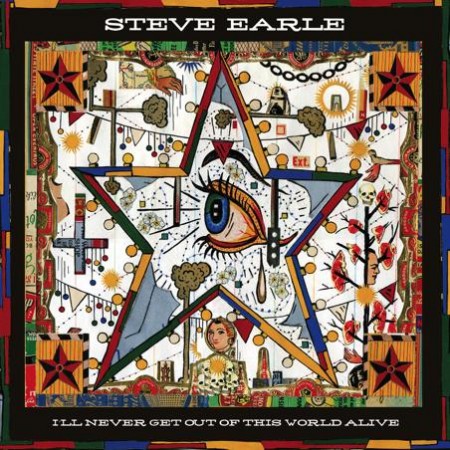 I've been attempting to write this review of the Steve Earle/Dukes and Duchesses tour for going on 3 months now. Partly this was because I am an irredeemable procrastinator. Partly it was due to my utter inability to decide what I wanted to write about. It would have been easy enough to give you the quick skinny on the set list and talk about how much fun it was to see Steve with a band for the first time (I definitely prefer the full band versions of "Guitar Town" and "Copperhead Road"). But that seemed like an easy out, so instead of writing such a generic review, I decided I would write an essay attempting to frame Earle in the context of the evolution of the modern troubadour- equal parts Woody Guthrie, Townes Van Zandt, and Bruce Springsteen. This, however, proved to be quite beyond my ability (and will power). I am actually quite glad I never really got around to tackling that bit. I'm sure I would have botched it, especially with my rather minimal (non-existent) research on the subject. After some more time had passed, I attached myself to the idea of combining the "live" review with a review of his new album I'll Never Get Out of This World Alive. The album is quite good (arguably his best set of originals since Transcendental Blues) and Earle had begun his live show with a half dozen of the new tunes, which held up surprisingly well against Earle's daunting back catalog. But as the August show faded further into the rear view mirror, this idea too faltered and failed to find its way into words.
So here you are left with the mumbled ramblings of yet another undisciplined post from yours truly. What you see below is merely a focus on 3 different songs that were played over the course of the evening.

Steve Earle- "Ben McCullough"
A long time favorite of Earle's acoustic sets, this song comes from one of my favorite Earle records, Train A Comin'. The full band version was surprisingly captivating. Lead guitarist Chris Masterson weaved a seamless solo through the song, and the whole band seemed to yelp the opening lines of the chorus "god damn you Ben McCullough/ I hate you more than any man alive."

The Mastersons- "The Other Shoe"
Part of the Dukes & Duchesses this time around are the husband and wife duo of Chris Masterson (guitars, vocals) and Eleanor Whitmore (fiddle, everything that tunes in fifths). When Earle lent the stage to the pair for their number, I was expecting something cool and worthy, but what I got was a song that has been causing me to press repeat for the last 3 months. The song was "The Other Shoe" from their debut album Birds Fly South, which also turned out to be a pretty damn good record. Thanks Steve for introducing me to another great pair of artists.

Allison Moorer- "A Change is Gonna Come"
The lovely wife of Mr. Earle (how in the hell did he pull that one off?) was also one of the Duchesses and in addition to some sublime harmonies and rhythm guitar, she played some inspired piano on quite a few numbers. Her 3 song solo set was capped off by this Sam Cooke classic. If you had asked me a couple years ago if anyone should ever cover this song, I would have emphatically answered 'no'. I probably would have protested that no singer could possibly expect to come even vaguely close to Cooke's soaring and emotionally charged vocal. Ben Sollee broke that myth and then Mrs. Moorer shattered it. She leaned into every high note and made you BELIEVE. And ain't that what music is suppose to do in the first place?
---
About the author:
Specializes in Dead, Drunk, and Nakedness..... Former College Radio DJ and Current Craft Beer Nerd
---