I'm going to do something that I don't think anyone at Twangville has done before.  I'm going to review half a record.  I was excited to get a pre-release file of Slaid Cleaves' new live album, Sorrow & Smoke: Live At the Horseshoe Lounge.  I gave it several listens, wrote up most of a review, and then while doing a little background research I learned that the new record is a double CD set and we only received the second disc.  Well, it's Friday before a long weekend, the record company people have all gone on holiday, and the album comes out on Tuesday.  I have Slaid's previous 3 albums, so I have all the studio versions of the content.  So what the heck, here's truly a half-ass review.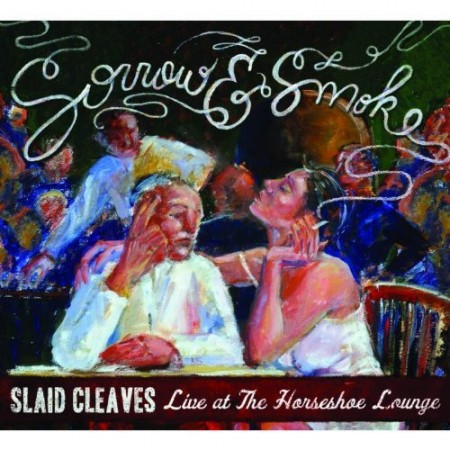 The first song I have to mention is Horses.  I think this is the quintessential Slaid Cleaves song.  It's a story about a wistful neighbor who notes "if it ain't for horses and divorces, I'd be a lot better off today".  The tune has Cleaves wry sense of humor, highlights his songwriting style, and includes a little of the yodeling he's known for.  If you're only going to download a single from the album, I suggest either Horses or New Year's Day.
This is by no means a one trick pony collection, though.  As Mayer mentions in his August Playlist column, there's a fantastic version of Cry.  With it's subtle trumpet accents from long-time collaborator Oliver Steck, it showcases the depth of a Cleaves song.  For the yodeling fans, there are a couple of Don Walser tunes that take warbling to a new level.  There's also a live version of Breakfast In Hell, that along with just about anyone's version of The Wreck Of the Edmund Fitzgerald, are the bookends for the workingman's-disaster-song genre.
The album was, as the title suggests, recorded at the Horseshoe Lounge, one of the classic Austin dive bars that's seen its fortunes increase along with everything else in south Austin.  The reason to note that is Cleaves kept some of the bar sounds on the record.  You get the background crowd laughter, the banter on the stage away from the mics, even some of the scraping chairs.  The result is not just a live record, but a recording of the atmosphere of a Slaid Cleaves show.  He was once quoted as having said Broke Down took him from total obscurity to relative obscurity.  With Sorrow & Smoke, he deserves to get up to at least marginal obscurity.
---
About the author:
I've actually driven from Tehatchapee to Tonopah. And I've seen Dallas from a DC-9 at night.
---