How does one go about acquiring an old soul?  Do you go down to the crossroads and make a Faustian bargain ala Robert Johnson?  Maybe reincarnation is the answer and you just have live a lot of lives.  Regardless of how they did it, collectively The Waifs exhibit a world weariness in their latest album, Temptation, that adds up to more than their years on the planet.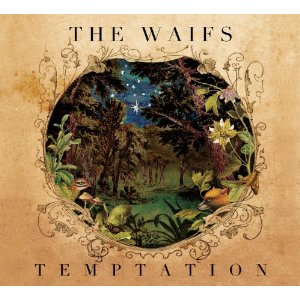 The disc starts with I Learn the Hard Way, a bluesy, sparse song about just what the title suggests.  With the smoky vocals and rootsy combination of slide and acoustic guitar picking there's a hint of early Cowboy Junkies.  That feel extends to a number of other songs, like Somedays when "most days I got a drink in my hand, 'cause most days I can't stop thinking of you."  Add some gospel harmonies and you get the title track, Temptation, and Moses & the Lamb that starts with religious-zealot-meets-1920's-radio evangelical reading accompanied by pump organ and banjo before vaulting into the 21st century.
The record does have some tunes that resemble the more lighthearted feel that previous projects, notably Up All Night, did.  The one I keep going back to the most, Beautiful Mind, somehow makes me think of an early 60's rock song.  Just add some doo-wop and you'd be back at the Brill Building.  Drifting Dreaming features squeaky acoustic guitar strings and toy piano that somehow does simply convey that drifting and dreaming feel.  Day Dreamer has that theme as well with its bright sunny day piano and banjo parts.
The album finishes with Goodbye, an old-timey waltz that melds the sadness and happiness and old-time-religion aspects of Temptation into a fitting summary that both ties up any loose ends and leaves you wanting more.  As I noted at the beginning, there's a richness and texture to this record that belies any simple explanation like production values or sound engineering and sucks you further in with every additional listen.  My suggestion is to not resist and just give in to the temptation.
---
About the author:
Support new music. Listen to a band or singer you've never heard of this week. I've been doing that for over 30 years.
---