Being able to pigeonhole a band's sound is useful to a music reviewer.  It lets you describe them quickly before a blog reader clic….  But for those of you still with me, MilkDrive, and their latest album, Road From Home, spans not just 3-4 genres of music, but 3-4 eras of music.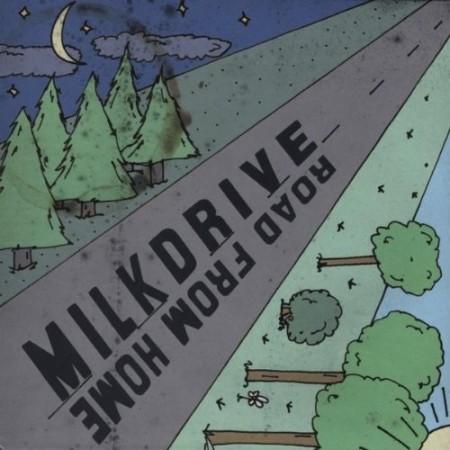 The first cut, Dry Creek Inn, is a paean to the late 60's sounds of Roger McGuinn and The Byrds.  Except instead of the familiar 12-string sound, guitarist Noah Jeffries and mandolinist Dennis Ludiker have combined their instruments to create something that's similar, but subtlety and enjoyable different.  The second tune, Smokeblowers, moves forward a few years to the sort-of country rock of the acoustic Doobie Brothers before they went down the schmaltz pop route.  This time, the difference is bass player Matt Mefford, who puts a Stanley Clark imprint on the song and makes you wish you could have Mark Ronson go back and remix a bunch of those early Eagles or Poco tunes.
From there, things shift to more of a jazzy feel.  SoHo showcases the bands harmonies, with a very Bill Frissell-like guitar track.  Changa Chang goes even further down the path with multiple key changes, jazz improvisation solos and a brief section in the end that could have come from Stravinsky.  That segues directly into Nightmares By the Sea with it's minor keys and tempo that would be right at home on an Arcade Fire recording.
One of the things I liked most on this album was the band's ability to combine everything–instruments, vocals, writing–into a song that so cohesively sets a feeling.  Stepping Stones with it's short phrasings and clipped notes conveys thoroughly that sense of jumping from one rock to the next.  And Spare Key, with its sparse sound and minimalist lyrics, completely reflects the yearning for someone to stay.
Overall this is as much a jazz album as it is rock or folk or bluegrass.  The number of instrumental-only songs may put a few people off.  But the amount of texture and complete mastery of so many sounds make this a recording that earns a lot of listens to catch all the subtlety of the arrangements and gorgeous sound.  I expect to be as enamored of Road From Home in six months as I am today.
---
About the author:
Support new music. Listen to a band or singer you've never heard of this week. I've been doing that for over 30 years.
---