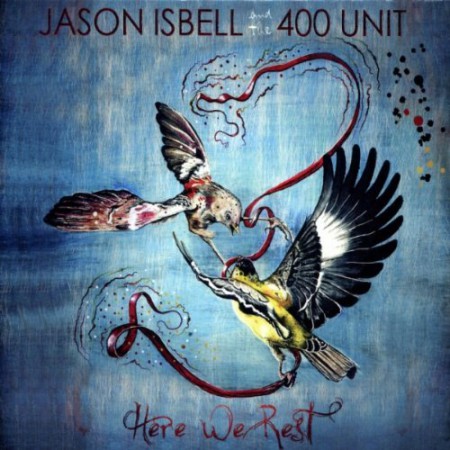 READERS PICK: APRIL 2011
Twangville readers picked Jason Isbell & The 400 Unit's Here We Rest as their favorite album of April 2011. His third album since parting ways with the Drive-by Truckers and second with band The 400 Unit. The album title, Here We Rest, takes it's name from the original Alabama state motto which featured a bald eagle riding a shield and carrying a banner in its beak with the motto on it. Interestingly enough, Isbell's album cover features Alabama's state bird, the yellowhammer, having it out with Washington, D.C.'s bird, the wood thrush.
At first, I was disappointed that Here We Rest isn't as rockin' as the previous self-titled album, but what it lacks in intensity it makes up for in soulful variety. Take for example the band's cover of Candi Staton's "Heart On A String". If that doesn't recreate Southern soul at it's best with the underlying organ and back-up vocals I don't know what will. We also see the best of Isbell's songwriting abilities in songs like "Alabama Pines" a story about someone who's seen better days and longs to relive happier times and "Tour of Duty" a story about a soldier's return home wanting so badly to live a "normal" life. You could say the same of heartbreaker "Codeine". Much credit goes to the 400 Unit composed of keyboard player Derry deBorja, guitarist Browan Lollar, bassist Jimbo Hart and drummer Chad Gamble who give the album its soulful range.
Jason Isbell is now, more than ever, in control of his destiny to rule the americana, roots, alt-country, and americana airwaves.
Standouts: Alabama Pines, Go It Alone, Codeine, Stopping By, Heart On A String, We've Met
[★★★★/4.455]
– Tom Osborne
Learn more at the Jason Isbell & The 400 Unit website. Also, be sure to see Eli Petersen's interview with Jason Isbell and Chip Frazier's review of Here We Rest both on Twangville.
---
About the author:
Washington, D.C. area web designer by day. Music is my muse. I host Twangville's weekly Readers' Pick.
---