by Chip Frazier in Americana, Blues, Country, Downloads, Indie, Reviews, Rock, Soul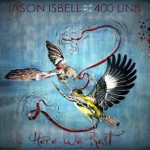 I almost didn't make it past the first song. "Alabama Pines". Usually that would have bad conotations, but in this case the song was absolutely mesmerizing. It is a song centered around the area of Alabama where I grew up. It is not the first Isbell penned song to have such an impact. "Dress Blues", from his first album, stopped me dead in my tracks. "Outfit", a song he wrote and sang as a member of Drive By Truckers, also had a similar emotional pull. Although I was stuck on the opening track, I managed to move forward, and it was damn good thing I did.
On Here We Rest Isbell brings it all together. The album is very laid back, and full of passion and pain. However, he shows us all facets of his dynamic talents. He shows that a great Singer-Songwriter is not confined by style. Musically, the album is as diverse as Isbell's influences. He delivers Country, Soul, Blues, and (in case you have forgotten) the man can still Rock. His band, The 400 Unit keeps the edges rough, which gives the album an undeniable authenticity. In the end. I was really glad I made it past the beginning. Here We Rest is astounding from open to close, and is truly a career defining album. It sets the standard, by which his future releases will be measured.
Audio Download: Jason
Isbell & the 400 Unit, "Codeine"

Audio clip: Adobe Flash Player (version 9 or above) is required to play this audio clip. Download the latest version here. You also need to have JavaScript enabled in your browser.
---
About the author:
Chip and his family live in Charlotte, NC. You can also find him at http://amberwavesoftwang.blogspot.com/ Roll Tide!
---