Experiencing Wanda Jackson's latest album, The Party Ain't Over, with collaborator and producer Jack White, is a little bit like riding a modern roller coaster.  Your brain tells you it's safe, you can see it's in good working order, it's not at all dangerous; but when you get off the ride your palms are still damp and your heart is racing.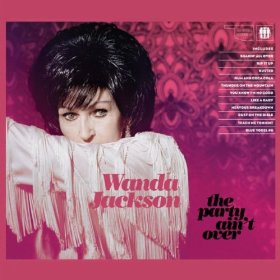 The album roars off to a start with Shakin' All Over, a wah-wah drenched 50's rock-and-roll song with White channeling Link Wray.  And when Jackson sings that when her man is next to her she "gets chiiiiiills down her spine" you have to shake out the goose bumps.  Next they swing into Rip It Up, a tune that reflects the style that made Jackson the doyenne of rockabilly back in the 50's and 60's.  From there, they go into Busted, a boozy, honky-tonk country song that reminds me of the scene in The Blues Brothers where they're singing the country songs behind the chicken wire.
This is a good point to talk a little about the production on the disc.  If you heard White's collaboration with Loretta Lynn, you know the underlying theme here.  Although I have to say I think he's lightened up compared to Van Lear Rose.  Listen to the Hank Williams song, Dust On the Bible, on this project, and then go back and listen to something from the Lynn project and you'll see what I mean.  There are a couple of missteps on this album, most notably a version of the calypso-influenced Rum and Coca-Cola, made famous by the Andrews Sisters.  The light hearted nature of music from the islands just doesn't match with Jackson's or White's style.
A couple of other songs I have to mention.  First is You Know That I'm No Good, a cover of the Amy Winehouse self-portrait.  I'm not sure I like this version better, but you'd be hard pressed to hear the sound of sultry distilled into a purer essence than what Wanda oozes out here.  The album finishes with Jimmie Rodger's Blue Yodel #6.  It's just Wanda singing and Jack playing acoustic guitar, and while it's clear that Jackson's voice has lost some of the punch of youth, she more than makes up for it with the passionate wailing of "wish a tornado would blow my blues away".  Whew.  You'll have to excuse me now while I go catch my breath.
---
About the author:
I've actually driven from Tehatchapee to Tonopah. And I've seen Dallas from a DC-9 at night.
---