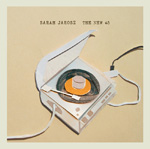 In the world of bluegrass and roots music, few, if any, have been buzzed about louder than Sarah Jarosz has been in the last couple of years. Unlike so many other hyped-up youngsters, however, the current musical student (it's likely she could take many of her fellow pupils to school, if you know what I mean) has more than showed how any praise she has recieved isn't empty hype, but legitmately earned admiration.
While her tender age has no doubt helped her attract a few listeners that might not typically flock to the sometimes stale realm of Bluegrass, her new project, The New 45, is a great, albeit small, example of why her age isn't nearly as relevant as her sweet vocal and her inventive musical perspective. The logically named The New 45 is a vinyl preview into Jarosz's next full-length album. "My Muse" is a soft, pensive tune that brings to mind some of Carrie Rodriguez's quiter numbers. On the B-side of the two song record, Jarosz's take on Bill Withers' "Grandma's Hands" is another example of how pinning Jarosz squarely into the Bluegrass box is perhaps a bit limiting and short-selling.
---
About the author:
I likes me some wine, women and waffles, not always in that order (but usually). Chaucer is cool, but fart jokes are even better. You feel like spikin' your country with a little soul or mix in a little rock without the roll? Lemme hear from ya!!
---