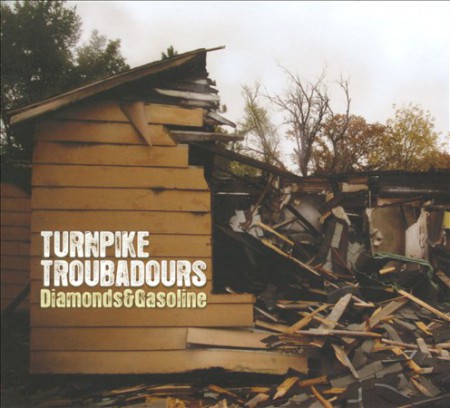 Busting out of Oklahoma, The Turnpike Troubadours are here to breathe new life into what is too often a stale environment in the world of Red Dirt music.
Sure, this quintet does their fair share of rocking out, why wouldn't they? It's the added country (shocking!) dimensions of their tunes that lend the album, and their overall sound, a bit of heft and legitimately place them into a roots-rock realm that often seems to lack actual "roots" tones. A weaving fiddle, and a sincere lyrical effort that harkens to a previous period, without just sounding old, become prominent and pleasing.
On the band's second album, Diamonds & Gasoline, the band that used their name to pay homage to their home state-sharing heroes such as Woody Guthrie, sing of life on the railroad, working along the river banks and the girl next door, all with extreme believability and a severe minumum of formulaic predictability.
On "Evangeline," a harmonica and banjo push the shuffling number forward while Evan Felker sings of a girl who's "sweeter than communion wine." While in the hands of other songwriters, the idea of a woman being a man's redemption can be a notion that's a bit tired, but here, an avoidance of a ham-fisted appraoch in favor of simplicity makes the concept timeless, not cliche.
So, to sum up: The Turnpike Troubadours are old-fashioned, in a very exciting fashion.
---
About the author:
I likes me some wine, women and waffles, not always in that order (but usually). Chaucer is cool, but fart jokes are even better. You feel like spikin' your country with a little soul or mix in a little rock without the roll? Lemme hear from ya!!
---