by Eli Petersen in Reviews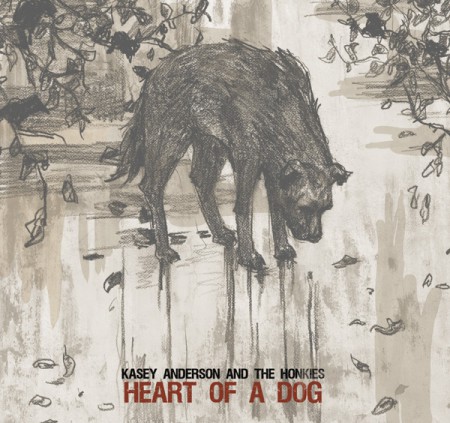 For those Kasey Anderson fans out there, good news arrives in the form a new album. Heart of A Dog is the follow-up to this year's critically acclaimed Nowhere Nights.
Here's Kasey unveiling the new record:
Starting today, and running every Friday for the next 11 weeks (until Dec. 10), I'll be posting a tune from my new album, Heart of a Dog, at http://heartofadog.com. The first song, "Mercy" went up today.

This is a record I made here in Portland with my band The Honkies* (I'll get to the name in a second), which consists of:

Andrew McKeag (Presidents of the USA, The Long Winters, Shuggie) – guitar
Julian MacDonough – drums
Sean Cronin – bass

And a bunch of other buddies (Jenny Conlee from the Decemberists/Black Prairie, Ralph Huntley from Richmond Fontaine, Garth Klippert from Old Light) coming in to help out. I produced the record myself, with help from Andrew McKeag and engineer Jordan Richter.

The point was to make a record where the entire process was fun, from tracking to touring/promoting, whatever. I just wanted to make a record that wasn't as stone-faced and serious as Nowhere Nights.
Kasey's making the first released track a free download, right 02 Mercy.
Here is the track listing for the rest of the record.
Side A
1. The Wrong Light
2. Mercy
3. Exit Ghost
4. Your Side of Town
5. Sirens and Thunder
Side B
1. Kasey Anderson's Dream
2. My Blues, My Love
3. My Baby's a Wrecking Ball
4. Revisionist History Blues
5. For Anyone
6. Save It for Later
---
About the author:
Specializes in Dead, Drunk, and Nakedness..... Former College Radio DJ and Current Craft Beer Nerd
---