If Hunter Thompson were still alive, I think he'd like The Back Row Baptists. First off, you know he'd identify with the attitude of their namesakes, the heathens-in-the-house-of-god thing. More to the point about the music, though, Broken Hearts & Bad Decisions is a dark record. It's about drinking and driving (although not necessarily together), trailer parks and road trips, and just generally raising hell. It advocates a take-no-prisoners attitude to life, but acknowledges that road is not without its dead-ends and drop-offs. Frontman Chris Porter says their music is outlaw gospel, and I suppose that's a just description.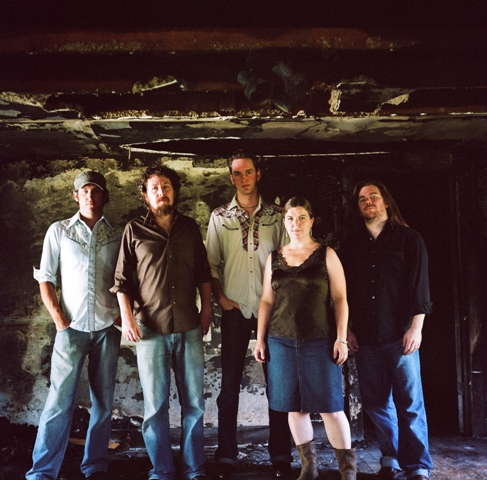 There are a couple of musical threads that wind their way through this album. The first is the sound of the upright piano that's equally at home in a honky tonk or the choir room. The second is the raft of acoustical string instruments that find their way into even the most raucous numbers. Together they give songs like Wood & Steel, By & By, and Fourth of July a presence that's equal parts Marshall Tucker and Uncle Tupelo. That's not to say The Baptists have a singular musical point of view. Just as you get comfortable with one genre, they break into something different. There You Are is a know thyself masterpiece that could have come from Kris Kristofferson. Me & the Devil is a swampy take on a story told by many a country troubadour, but with the background vocals of Sarah Green it takes the lament of "ain't got no pills to get me high" to a new level. There's also a subtle use of horns on several songs on the album that add a richness without calling attention to themselves.
In addition to the musical melting pot, this record has a lyrical foundation that sometimes you have to sit back and admire, and at other times makes you lean forward to sing along. Wreck On the Highway "when whiskey and blood run together" is a gospel-tinged number while "goddamn, raise hell, at the Fourth of July" is nothing deeper than a paean to partying. Thousand Songs, "don't know what to say", "a thousand tears, don't know how to cry" evokes Glen Campbell in the 70's, while Miles Away is a toe-tapper about the "pretty little girl who don't say much, but likes to talk".
Overall Broken Hearts & Bad Decisions is a little like hundreds of other alt-country, Southern rock, Americana records you've heard, and yet it's little different from all of them, too. There are a lot of subtle musical and vocal tidbits that reward multiple listens. And if you grew up in the rural South, more than a few stories hit home a little harder than you first expect.
---
About the author:
Support new music. Listen to a band or singer you've never heard of this week. I've been doing that for over 30 years.
---