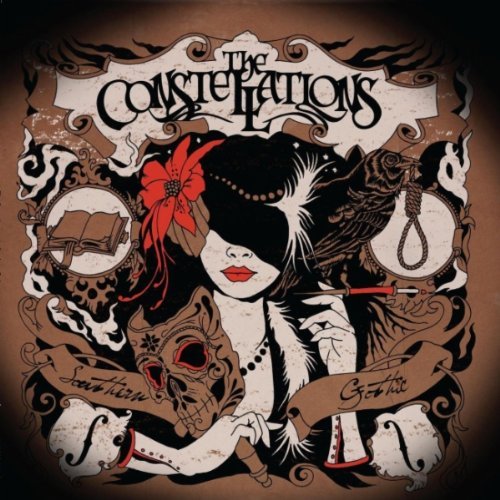 Down in the dirty, dirty south there's a new band hitting the scene that's about to change everything. Atlanta is probably one of the unlikeliest places you'll hear this particular brand of freakadelia. The South has always had a sordid tale to tell and it's been told many times over. This time around the storyteller looks and sounds a little different. Picture a smoky, underground party of punch-drunk circus freaks and you'll see an 8-piece band they call The Constellations. Led by Elijah Jones, the band blends a little funk, soul, rock, and hip hop into their own psychedelic flavor of storytelling. Jones describes the band as a group of stars, hence the name "Constellations".
As for tunes, "Setback" kicks the party off by giving you the feeling like you're dressed to kill and walking right into the red light district. You know you've arrived when you hear the Waitsian "Step Right Up" a cowbell-enhanced tale that is the ultimate essence of the album. The smooth harmonies of Alaina Terry and Shab Bashiri lay the foundation for "Love Is A Murder" a song that proclaims "if you really want to live / you gotta be ready to die / every single love is a murder / you gotta commit to survive".
This is not a typical Twangville dish, but a hearty one fresh from the garden of earthly delights. I don't expect everyone to like this record, but those that do will LOVE it. It's been a long time since I've heard an album this rich in sound with a narrative so painterly, like a Toulouse-Lautrec. The Moulin Rouge has found a new hometown in Atlanta and a new house band in The Constellations. Step right up!
[Tom Osborne – ★★★★/4.273]

The Constellations – "Setback"

THE CONSTELLATIONS | MySpace Music Videos
BONUS: Be the first to comment and win my review copy PLUS a vinyl LP featuring "Setback" and "Love Is A Murder"! (already awarded)
---
About the author:
Washington, D.C. area web designer by day. Music is my muse. I host Twangville's weekly Readers' Pick.
---