by Shawn Underwood in Americana, Folk, Reviews, Roots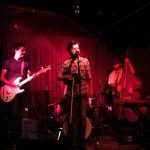 As a preview to an upcoming mini tour, Warren Hood played an unannounced show last week at Amnesia Bar in San Francisco.  Featuring his new band, the Goods, the brief-but-very-enjoyable show covered a wider range of material than Warren's background might otherwise indicate.  Covering everything from Stevie Wonder to neo-Balkan indie music to a song his dad, Champ Hood, wrote but didn't record, the set list had something for any fan of American music.  In addition to Warren's fiddle chops, which have been honed since before he was a teenager, the Goods featured band mate Willie Pipkin on guitar from their South Austin Jug Band days and the very talented Emily Gimble on keyboards and vocals.  As just one indication of how good this show was, fellow Waybacks member James Nash stood front and center down in the packed house for the entire show.  If you're in Texas this summer I certainly recommend you mark the calendar for one of Warren's shows in June and July.  Or, for that matter, go catch The Waybacks (one of my top live picks in 2008) on a date in the Southeast this summer and see Warren and James both tear it up.
---
About the author:
Support new music. Listen to a band or singer you've never heard of this week. I've been doing that for over 30 years.
---