One of the things I've observed over the years is how the best musicians put so much more into a song than just the words and notes.  A poignant pause, a percussive tap, a note played just off the beat, they contribute to a texture and ambiance that are nearly impossible to describe.  You just have to experience it.  Although relatively new to the music world, Montana band The Lil Smokies already excel at creating that musical essence and their craft is on display on Changing Shades.
Ms Marie, a song about a woman who dances "like a painter without brushes," uses an up-speed tempo to help convey the feeling of twirling around the dance floor.  Might As Well is also uptempo and fiddler Jake Simpson uses a staccato bounce on the instrument that, while not a unique trick, accentuates the lyrics.  Simpson's fiddle and primary songwriter Andy Dunnigan's dobro (or maybe it's Matt Cornette's banjo) take on some of the sound of Mother Nature in The Gallery.
Vocally the band also has their stylistic elements.  The City could be a hit for any indie band on the pop charts.  Need A Minute slows things down a bit and with nice harmonies to perfectly match the request that "maybe right now, I need a minute."  My favorite song on the disc, Where You Are Today, is also more of a ballad and lets the harmonies take center stage in a way I haven't heard since Poco or Crosby, Stills & Nash.  The advice to "be thankful for the road you're on today" just flows seamlessly from the core of the tune.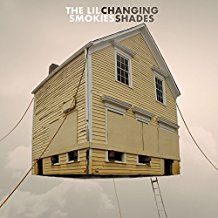 As winner of last year's IBMA Momentum Award for best emerging band, The Lil Smokies aren't exactly sneaking up on anyone.  Nonetheless, they haven't been around for long enough to hit all the clubs and dance halls in the country that appreciate bluegrass music, in all its forms.  I was fortunate enough to see them three times this year, not through any insight or planning on my part, and their live shows are every bit as rich as what they laid down on Changing Shades.  Do yourself a favor and go see them when they come to town.
---
About the author:
I've actually driven from Tehatchapee to Tonopah. And I've seen Dallas from a DC-9 at night.
---