A few weeks ago I wrote about a movie that explores the issues around how streaming has changed the economics of the music business.  The result of that plus nearly free compute power, is it's now cheap enough to make a record that musicians can choose to make an album in support of other projects and priorities.  Here are 3 of the best in that category that have recently been released.
Pete's Posse – The Conversation.  Pete's Posse is a neo-traditional folk band based in the northeastern United States.  They have a loyal following and they work hard to make those fans part of the band's character.  The Conversation is part of a "musical discussion that has developed…over 55,000 miles of touring".  That may not sound like a lot, but when all your gigs are a few hundred miles away, that's a lot of shows.  The music on this record ranges from a sampling of Celtic folk tunes on The Bracca Set to an a cappella sea chanty with gospel roots on Fiorona to an almost-country sound with Burnin' Shivers.
Dan Sullivan – Tin Angel.  At the other end of the spectrum, Dan Sullivan insists he's not a performer and doesn't even think of himself as a singer or musician.  He's a songwriter.  But if you want people to hear your songs, you have to record them and so he does.  Tin Angel is his third album.  Old Violin is a Guy Clark-worthy story of a dreamer who goes into a pawn shop.  Crazy America is an unfortunately-too-true observation on today's society where "it doesn't matter where you're from, someone's going to hate you."  Who Needs A Song is a self-effacing tale about how hard it is to get paid for writing those songs.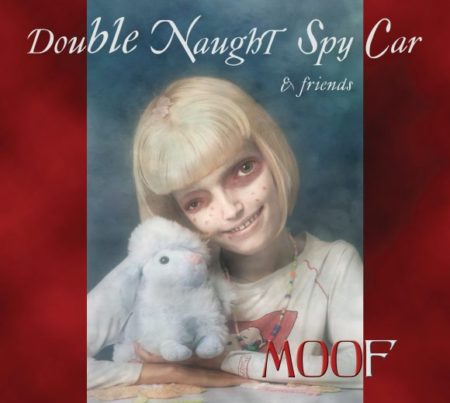 Double Naught Spy Car – Moof.  One of the side projects of guitarist (I See Hawks In L.A.) and producer (Gerry Spehar) Paul Lacques is his instrumental-only band Double Naught Spy Car.  Lacques has been around the block enough times to know jazzy, Americana noir instrumentals are not going to hit the mainstream and he thanks his fellow musicians on the album for "their bravery and creativity".  The result of their collaboration is not just attitude, but a record with moods.  Tale Of the Comet has a serious Dick Dale surf rock vibe.  Criminal Luminosity could easily be a soundtrack to a David Lynch movie.  Rhythms Of Chimney gets you in a 60's Brit pop state of mind.  And Like Standing Water is the accompaniment for a stroll by the lake.
---
About the author:
Support new music. Listen to a band or singer you've never heard of this week. I've been doing that for over 30 years.
---