Back in the day there was a clear distinction between the sound of a "demo" record and one that the label produced to be released to the public.  Demos were recorded with nothing but a tape machine and a couple of mics and cost virtually nothing to produce.  Records themselves cost a lot of money to produce and used every trick in the book because, well, the label was paying for it.  Nowadays anyone can afford a few hours with a borrowed computer and Pro Tools, so the choice of how many production effects to use is really up to the artist and the sound they want to generate.
Austin songwriter Jenny Parrott has worked and fronted multiple bands, but on her debut solo album, When I Come Down, she's chosen to strip down the project so you hear mostly just her and her songs.  The title track is nice folk song that features just Jenny and Gary Newcomb on guitar.  Layin' isn't much slicker, but adds a Fats Domino shuffle to it's moral of most good things in life not coming easy.  Gainesville is fun little ditty with, I swear, a little bit of intentional off-key vocals to punch up the ironic story of someone believing everything they want in life will be in Gainesville.
The two songs I happen to like most on the album have a little more studio production to them.  Indian Times has an Erika Wennerstrom/Heartless Bastards intensity that's accentuated by some kind of bow on an electric guitar.  Fuzz without the guitar pedal.  When You Knew Me Well has a ska beat and a rhythm section feel that would be home anywhere in the Caribbean.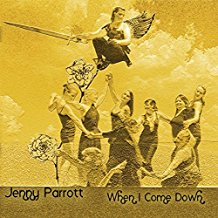 As much as I appreciate the full sound and sense of atmosphere that a great producer can create, some days it's nice to hear the music in its pure form.  For that, I recommend taking a listen to When I Come Down.
---
About the author:
I've actually driven from Tehatchapee to Tonopah. And I've seen Dallas from a DC-9 at night.
---