Distances in western America can be vast.  You have to decide on a philosophy: are you about the journey or the destination.  Focus on the goal and you can embrace the trance of picket fence telephone poles and the sporadic interruption of small towns.  A day, two, three and you're there with no trauma beyond the saddle soreness.  Or you can wrap your arms around the stories along the way.  The guy down that road with a sort of PTSD from the mustard gas in the World War.  The town with the bear wrestler who just happens to have been World Middle Heavyweight Wrestling Champion.  Fortunately for us, Gerry Spehar is a journey kind of guy.
 Produced while Spehar's wife, Susan, was succumbing to cancer, I Hold Gravity is a lifetime of stories they experienced together.  Dirt is a little bit of a Neil Young/Crazy Horse style country rock song about the mining communities in western CO where Gerry and Susan grew up and "it all comes down to dirt."  Be Nemanic is a funky, groovy, foot-tapping commentary on being an immigrant in America couched in the story of a couple of Eastern European "strongmen" from the early part of the 20th century.
I think the record is the strongest when they start to abstract a particular tale and make a broader observation.  Mr. & Mrs. Jones is, indeed, about keeping up with the Joneses, but in this case Iowa farmers where 5'10" corn just isn't good enough compared to the neighbor's 6'0″ crop.  Into the Mystic is an upbeat ballad about the disbelief that one would want to leave the known boundaries of small town life, "where are you going, why would you leave?"  My favorite song is a wry view on the beliefs that many in the rest of the country have about Angelenos, That's How You Get To Heaven From L.A.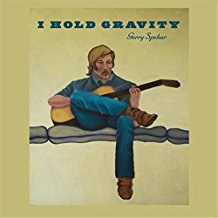 The title song is technically the only love song on the album.  But let's be clear, the whole project is a love song.  Co-produced by I See Hawks In L.A. guitarist Paul Lacques, and featuring he and his bandmates on several instruments, there's a warm, melancholy tinge that befits a record that's about a life lived and loved together.  Listen to I Hold Gravity a couple of times and you can't help but feel that, having not met Susan Spehar, you missed out on something good.
---
About the author:
Support new music. Listen to a band or singer you've never heard of this week. I've been doing that for over 30 years.
---